Wednesday - March 25, 2009
By Kerry Miller

Movies Showtimes
Share

Joanie Gribbin-Aiu
PTG President, Star of Sea School
as told to Kerry Miller
Where and with whom did you see the movie?
I went to the Kahala Theater with my three children, all different ages: Wyatt, 14, Madison, 12, and Weston, 3.
Overall, what did you and your kids think?
We loved it.We've been waiting for another good family movie to come out - this was nice. There really hasn't been one for a while. My older son, he likes action movies,and this had some action.My daughter, she likes funny and little bit of romance,and it had that in it. My 3-year-old, he kind of likes everything, he was able to sit through the whole movie.It held his attention as well as mine.
We have some personal connections to the movie, so I was looking for that.
Did you like Dwayne "The Rock" Johnson in this role?
We love The Rock, of course, because of his ties to Hawaii. As far as this role, I think he handled it well.
Did the younger actors do a good job?
I thought they did an excellent job.I thought the girl (Annasophia Robb) really did look like Kim Richards, who was the girl in the original. The boy (Alexander Ludwig) was a little different-looking as far as looking like the original boy. What I thought was really neat was how they incorporated the two original kids (actress Kim Richards and actor Ike Eisenmann) in the movie.They gave them roles in this movie. Of course they're adults now, the boy is playing a sheriff and Kim Richards,she was a waitress.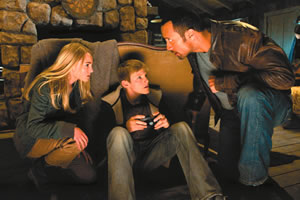 From your kids point of view, was the movie scary?
I didn't think it was scary at all compared to some movies out there. There was a little more action than I thought was going to be in the movie,as far as gunfire.They didn't show anybody getting shot.
Did you or your kids have a favorite character or scene?
My kids kept talking about when they went to this old house and they had to find the secret passageway, there was a part when they had to put something on the refrigerator.The Rock was following them,and he had to act scared, so that was kind of funny. He said "Come on, Jack, don't go into the pimped out refrigerator," and everybody cracked up.
So your brother-in-law was in the original Escape To Witch Mountain? What was his role?
Yes, Escape To Witch Mountain. His sister said,"I remember when I had to drive Jeff to the audition at the time." He didn't have a speaking role, he was excited.We bought the original,so the kids could see their uncle.This is a nice way for them to see him; he passed away.He has a small role in a gang the kids ran into.
On a scale of one to four stars, what would you rate this movie?
★★★ 1/2.
What's new?
I am with Star of Sea School. I'm the PTG president, and I am very busy right now with our East Honolulu Food Festival.The festival is May 2 at the school on the green. It's our one fundraiser for the entire year. It's a really family-oriented event.We have all of these top restaurants coming out - all you can eat and drink all night, entertainment, kids have their own tent, rides, games, silent auction. Our theme for the event is "Moonlight Beach Party." (For information and tickets, call the school,734-0208.) Our silent auction theme is anything having to do with water sports.We just got some really awesome donations.
Most Recent Comment(s):