Wednesday - February 06, 2008

Movies Showtimes
Share

Mike Hall
Rambo
Mike Hall
Extreme Fighting Promoter, FightAgents.com
As Told To Kerry Miller
Where and with whom did you see the movie?
I saw it at Ward with my wife, Emme Hall.
Overall, what did you think?
I really didn't like it, to be honest. I thought there were some good parts,but overall I wasn't happy with the movie.
How is this movie compared to the other Rambo films? Especially with the absence of Richard Crenna (Col. Samuel Trautman, of the first three Rambo films)?
I loved the first one. I really expected to enjoy this movie, but I just really wasn't crazy about it.It's one of those if you're not doing anything on a Thursday night,go rent it.This was all Sylvester Stallone - he directed it, wrote it and produced it.
Was this latest Rambo installment particularly gory and violent?
It was very violent.The issue I had was kind of the anti-peace sentiment,let's choose killing people over trying talk. That kind of thing.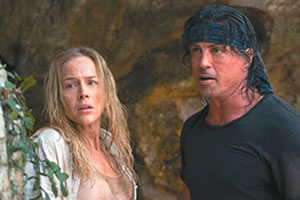 Was this movie more action and less storyline, or maybe a combination of both?
There was practically no character development.I guess they assumed you were invested in the character, John Rambo, already.
That's why I liked Rambo, because besides all the gore you saw the internal struggle. (This movie) had to do with the genocide going on in Burma, it made me think about how we are doing that in Iraq.
Is Sylvester Stallone too old to be playing Rambo, or was he just as believable as he was when he was younger?
No, that's the one thing, he looks really good for this age. He was really believable as a bad ass jungle killer. He was believable in the role.
On a scale of one to four stars, what would you rate this movie?
★★.
To whom would you recommend this movie?
People who just want a mindless killing spree. They'll enjoy it.
Favorite movie snack?
Muddy Bears - Gummy Bears covered in chocolate. I would order them by the case if I could.
What's New?
My day gig is I'm the senior corporate account executive for the Mobi PCS Business to Business Division. I just started a MMA (mixed martial arts) business, FightAgents.com.Think Jerry McGuire for fighters. I go out there and get sponsorships and endorsements for fighters.We had our official launch. We really just planned on generating interest and signing a decent fighter or two, but things are just going so fast.In less than a week we've already signed the top female fighter in the world. I'm really excited we signed Mia St.John,Chad Reiner and,of course,we're working with some really great local guys,Team Ruthless out of Waianae.
Next week: a new movie, a new celebrity
Most Recent Comment(s):