Wednesday - October 19, 2011
By
.(JavaScript must be enabled to view this email address)

Movies Showtimes
Share

Lionel Wright
Hawaii's MMA Program Chief Inspector
Where and with whom did you see the movie?
I saw it with my 17-year-old daughter, and we went to the Ward theaters.
Overall, what did you think?
I really liked the movie. For me, I love movies.
You notice that all the movies have similar story lines, and this story line reminded me of a Rocky Balboa-type of thing where the underdog comes from the bottom to become the champ again.
I liked it, too, because when you're feeling down and out on life, you feel better about yourself after seeing this movie.
On a scale of one to four stars, what would you rate this film?
I wasn't a perfect movie, but I'd give it ★★★. That's pretty high for me.
I don't think I'd rate any movie ★★★★.
Without giving away the ending, what was one of your favorite scenes?
One of my favorite scenes was when they fight in the big leagues against a two-headed robot.
It was interesting because they have this little robot, but they were fighting a huge one with video screens and four guys working it.
But even they though were the underdog and smaller, they still came out and won.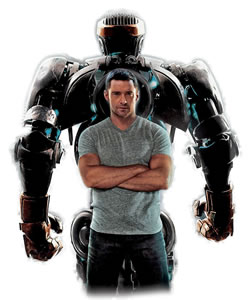 Did any of the actors stand out?
Hugh Jackman definitely stood out. He's always a plus.
But the boy that played his son really stood out, too. He did an amazing job.
Did you identify with any of the characters?
I identified with Hugh Jackman because he made a lot of mistakes in his pars and he kept that old-style mentality, but he learned to get past all of that in order to become a better person. And he did so.
I made a lot of mistakes in my past too, and I like to hope and think that I'm getting to be a better person.
Who would you recommend this movie to?
I would recommend it to people who are into the boxing industry and MMA fighters and coaches.
They can understand the competition part of the movie.
Also, high school kids who battle robots. They do a lower-end version of this movie.
This movie would also be great for teens because there's this video game aspect, and it's really easy to follow.
And to everyone who just wants to kill time and feel better about themselves after watching this movie.
On a different note, what's new with you?
For me, I'm always finding new and interesting things to do like traditional business, but I don't have the money or patience to do traditional business.
I've been doing stuff with the Internet to see where things are and place myself in a little better place in the world.
I'm also trying to do my part keeping the sport of MMA around and keeping it safe so future generations can do it.
If BJ Penn wins his fight at the end of this month, the UFC welterweight title is going to be at Aloha Stadium.
UFC could be coming here next year if he wins. The potential is absolutely staggering, and we're so close to something happening.
I'm flying up to Vegas with Alan Taniguchi to see BJ's fight.
I want to watch it to find out how the Nevada Athletic Commission runs their events up there.
We're so close to getting mainstream recognition.
Every Monday I'll sit with director Alan Taniguchi and talk about what's happening and how they can make improvements.
Laws are laws, rule are rules and regulations.
Most Recent Comment(s):