Wednesday - August 31, 2005

Movies Showtimes
Share

Red Eye
Movie Review with Malika Dudley
Miss Hawaii 2005
As Told To Katie Young
Where and with whom did you see the movie?
I went to Ward Theatres.
I took my dad, who was visiting from Hilo for the weekend.
Overall what did you think?
The previews for this movie made it seem really scary, like a horror movie, so I wasn't looking forward to it. But I was pleasantly surprised. My dad called it a "Hitchcockesque psycho thriller." It was suspenseful, had action and also had some humorous moments.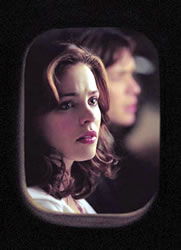 What was your favorite scene?
I really liked the scene where Lisa (Rachel McAdams) tells off her nasty hotel guests.
Who was your favorite character?
My favorite character was the hotel receptionist. I liked the humor she brought to the movie.
How would you rate the acting?
The acting was great. I loved Rachel McAdams in The Notebook, and she didn't disappoint me in this film. Her co-star was also a great actor; Cillian Murphy was very convincing as a psycho-killer. I was really scared of him.
How were the special effects?
They were pretty good.At one point a building gets blown up and it looks quite realistic.
Did the movie have a meaning?
Don't trust anyone! You never know, they could be a psycho killer.
What was the best/worst aspect about the movie?
The best aspect was that it had good dynamics. It had a good mixture of suspense, action and humor. The worst aspect was that it was a little bit predictable.
Is it a movie that you would see again?
Sure. It was a good movie.
To whom would you recommend the film?
I'd recommend it to people who like action and suspense.
On a four star rating, with four being the highest, what would you rate the movie?
3 stars.
What's your favorite movie snack?
Candy. I have a major sweet tooth.
What's your favorite movie?
Chicago, because I have always dreamed of being in the production and playing the role of "Velma."
How often do you go to the movies?
Once a year! I'm really busy.
Who's your favorite movie buddy?
My friend Trisha Barbosa. She was Miss North Shore 2004. We became great friends at the pageant last year and she has become one of my best friends.
What genre of movies do you like?
I like "feel good" movies. I like comedies because I like to laugh. I like romantic comedies because I like to dream.
Who's your favorite actor/actress?
Catherine Zeta-Jones. She's just amazing! She filmed Chicago (my favorite movie) while pregnant! You can't beat that.
What's new?
Since being crowned Miss Hawaii two months ago, I have been traveling quite a bit. I was on the Big Island for six weeks as a part of the Quentin Burdick Rural Health Program and flew back and forth between Honolulu and Hilo every week. I've been to Japan, Molokai, Las Vegas and Maui promoting our beautiful Hawaiian islands as well as my platform "Mentoring: Changing society one child at a time." In addition, I have performed and spoken at different engagements across the state.Watch Miss America on CMT in January!! For more information, please check out this website: http://www.misshawaii.org
Next week: a new movie, a new celebrity
Most Recent Comment(s):