Wednesday - March 23, 2011
By
.(JavaScript must be enabled to view this email address)

Movies Showtimes
Share

Rick Tune
Punahou Boys Volleyball Coach
Overall, what did you think?
I thought the movie did a nice job taking a classic childhood fairy tale and folding it into a darker, more mature plot line. The character of Riding Hood was a bit unlikable and I'm not sure that it was intended to be that way. She wasn't very complex and didn't show much change in affect even when it was called for.
The plot line was predictable but complex at the same time, and I like the way the film gives a simple story much more body by adding a love story, loss of innocence and shows the complexity of human interaction and emotions.
On a scale of one to four stars, how would you rate this film?
I would give this film ★★1/2.
Was the message/theme of the film clear?
Messages were probably centered on the imperfection of human beings and the subtle interplay between good and evil.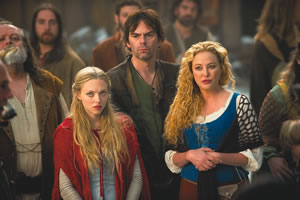 Did you identify with any of the characters?
Probably the blacksmith, who tries to do the right thing even when he does-n't get the rewards that he wants.
Did it remind you of any other work in film?
It reminded me of Alice in Wonderland, the Johnny Depp version.
To whom would you recommend this movie?
I would recommend it to adults who like fairy tales.
Would you buy this movie when it comes out on DVD?
No, probably not. It's not because I didn't like it to a degree, but I can only watch suspenseful movies once.
On a different note, what's new with you?
I'm just focusing on starting the 2011 boys high school volleyball season. We have a young but very talented group of guys, and we're just trying to maximize the learning opportunities at this point.
(Editor's note: Punahou is the two-time defending state volleyball champion, has won five state crowns in six years and has racked up 29 state titles in the 41-year history of the tournament.)
Most Recent Comment(s):