Wednesday - January 25, 2012
By
.(JavaScript must be enabled to view this email address)

Movies Showtimes
Share

Thomas Obungen
Yelp Intern & Advertising/Public Relations Student
Where and with whom did you see the movie?
I saw it at Consolidated Ward Stadium with a bunch of awesome Yelpers!
Overall what did you think?
For a period piece it was mediocre ... I didn't feel like I was there, but the storyline was decent.
On a scale of one to four stars, what would you rate this film?
★★
Without giving away the ending, what was one of your favorite scenes?
Definitely the dogfight scenes, and when "Ray Gun" triumphantly returns to the air base after being a POW.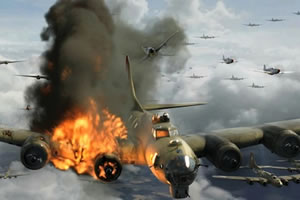 What did you think of the cinematography?
Tons of CGI (computer-generated imagery) like a Lucasfilm should have.
However, it was not Star Wars quality.
Was the message/theme clear?
Sure!
Did it remind you of any other work in film?
Pearl Harbor, and that other Cuba
Gooding Jr. movie, A Few Good Men.
To whom would you recommend this movie?
Military buffs, pilots and anyone who likes planes and Space Invaders.
Did any of the actors stand out?
No.
Did you identify with any of the characters?
No.
Did the soundtrack contribute significantly to the film?
Somewhat. But (pop, R&B singer-songwriter) Ne-Yo did have a small musical part in it, of course!
Would you buy this movie when it comes out on DVD?
No. Then again, I don't buy DVDs anymore.
What's your favorite movie snack?
Popcorn with mochi crunch, Red Vines and Pepsi Icee!
On a different note, what's new with you?
School's back in session and you know what that means ...
Most Recent Comment(s):