Wednesday - March 24, 2010
By
.(JavaScript must be enabled to view this email address)

Movies Showtimes
Share

Lincoln Jacobe
CEO, Hawaii Pacific Entertainment
Where and with whom did you see the film?
I went to Ward Theatres with my friends Vince Leong and Diane Choi.
Overall, what did you think?
I liked it, because the whole time the storyline was being dealt it kept me captivated and completely interested. The ending came a little suddenly, though, and the screen just went dark for a good five seconds, and then it came back on again and that's part of how they ended the movie. It really made me think a lot, though, about how I would remember someone right before they die and how I would want others to remember me.
On a scale of one to four stars, what would you rate this movie?
I would say ★★ just because the ending came so fast,and I think they could've done a better job with it and built on the ending more. The storyline could've been more drawn out and really reflected on (the ending). At the end, though, you're really already crying and it's just inevitable. Yes, I cried (laughs).
To whom would you recommend this film?
You know, all I could think about when I realized at the end what the film was about were the people I know who lost someone or knew someone who lost someone close to them when (those events) happened. Even people who didn't have the chance to say their goodbyes to someone they've lost through any other event, whether it be in a relationship, death, friendship - anything - could appreciate this. It really made me think that we should do everything and say everything we can today because we're not guaranteed tomorrow. For example, the lead actress (Emilie de Ravin) would eat her dessert first and her meal second,and her reasoning was that you never know if you'll be struck by lightning before you can get to it, so why save the best for last?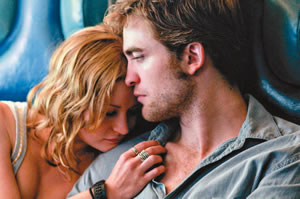 So how was the acting? Did anyone stand out?
You know, I really liked Robert Pattinson. He was a really good actor for the role and was great with the emotional aspects of the film.He was the best actor in the film,for sure.
Without giving away the ending,what was one of your favorite scenes?
My favorite scene was when Robert Pattinson was at his dad's executive work station and he touched the mouse to turn on the computer,and his dad's screen saver on the computer was all pictures of him and his brother, mom and sister, when he (Pattinson's character) had thought all along that his dad didn't care about his family.
On a different note, what's new with you?
I'm actually working on a couple of things. On May 9 we're doing our annual Mother's Day Lunch with the Stars at noon at the Hawaii Okinawan Center, and June 11 and 12 we're working on the Big Boys and MMA Expo at Blaisdell Exhibition Hall.
Most Recent Comment(s):