Wednesday - December 07, 2005
By
.(JavaScript must be enabled to view this email address)

Movies Showtimes
Share

Rent
Movie Review with Tom Holowach
Manager Windward Community College's Paliku Theatre
As Told To Katie Young
Where and with whom did you see the movie?
The Ko'olau Stadium 10 in Temple Valley with my wife Holly.
Overall what did you think?
Rent is an extremely well-done rock opera, certainly the best one on film in at least 20 years. The vocals were stunningly powerful and the emotions raw, touching me deeply. This simultaneously dark, yet life-affirming story is loosely based on Puccini's La Boheme, which was the first opera I ever saw performed live on stage when I was in college.The Bohemians in this story live (and die) in the squalid lofts of the Greenwich Village area of New York City in the late 1980s.
What was your favorite scene?
There are a pair of scenes that use the song I'll Cover You to show the love relationship between Angel and Collins which take you on an emotional roller coaster, from the sheer joy of a new, true love to the pain of losing the same.The most entertaining numbers are Tango: Maureen and Take Me or Leave Me. The proverbial show-stopping number, shot at the real Life Café in the East Village, is La Vie Boheme.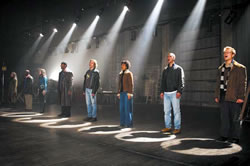 How would you rate the acting?
The emotions are intense and believable across the board.There are strong portrayals of different types of love relationships, and the pairs of actors in their scenes together bring out the best in each other, making the various duets/dialogues the strongest parts of the show. The majority of the actors are from the original Broadway cast, and I think that the ensemble has a bond that would be hard to duplicate by casting a new group of strangers. Most of them had been in the off-Broadway show when the author, Jonathan Larson, unexpectedly died of an aneurism after final dress rehearsal in 1996, and I think they had an inner drive to get this film perfect "for Jonathan."
Did the movie have a meaning?
The rather obvious meaning is that we each need to live every day as though it were our last, because we never know when that day might come ("No day but today"). The ideal of living a Bohemian life, rather than giving in and selling out to the establishment is also in your face. The deeper message is that in reality, nobody wants to run away to be alone. Even if they choose to leave their own annoying family to live an alternate lifestyle, they still crave the companionship of at least one other, if not a whole surrogate family of souls like themselves. Finding and holding on to that love and those relationships is what gets us through the "525,600 minutes" of each year.
What was the best/worst aspect about the movie?
The amazing vocal performance of a powerful set of songs is the foundation to this whole experience, and the sound clarity and vocal quality is superb. The few low spots in the show were, to me: the whole eviction/ redevelopment/protest show scenario, which was not only a contrived story, but which really wasted the talents of Taye Diggs as Benny. I have no idea why he would be so threatened by Maureen's planned protest performance to try to shut it down, and when her Over the Moon number finally comes, we are left wondering how that silly song could possibly have convinced anybody to take any action against anything.
To whom would you recommend the film?
Of course, those who already like theatre and stage musicals are a natural audience,but I would love for older teens and college-age people to see this.
On a four star rating, with four being the highest. what would you rate the movie?
Three Stars
What's your favorite movie?
For sheer genius of technique it has to be Citizen Kane. I see new things every time I watch it, and keep reminding myself that actor/director Orson Welles was only 25 when he did it. The movie which I always thought best expressed my inner rebel was Cool Hand Luke with Paul Newman.
Who's your favorite actor/actress?
The first one who comes to mind is Meryl Streep, because she is such a chameleon. She actually becomes her characters to such an extent that you forget that there is a "star" playing the role. I am pleased to see others coming along with that skill, like Joaquin Phoenix and Charlize Theron.
What's new?
My job as manager of Paliku Theatre got me excited about being onstage again, and after a short hiatus of 30 years, I finally became an actor again, which I hadn't done since shortly after college. My wife, Holly, was also an actress, but in our 26 years of marriage we had never been onstage together until this year,when we did Love Letters to kick off our season at Paliku. That's the other exciting thing about this year ... we actually have a season of four plays. We just finished South Pacific, directed by Ron Bright, and we are doing Charlotte's Web for kids in February, then You're a Good Man Charlie Brown in April. People are still discovering our great shows and our beautiful theatre up at Windward Community College, and we hope they tell all their friends and come back for more.
Next week: a new movie, a new celebrity
Most Recent Comment(s):