Wednesday - April 27, 2011
By
.(JavaScript must be enabled to view this email address)

Movies Showtimes
Share

Chyna
Actress/Former Professional Wrestler
Overall, what did you think?
I thought it was really cute; the colors and animated scenery were probably the best part. It was very realistic, everything down to the trees and water. I really liked the music because it wasn't kiddy like The Lion King or other animated movies. It was subtler.
On a scale of one to four stars, how would you rate this film?
I would give it ★★★. I liked it a lot.
Was the message/theme of the film clear?
Yes, it was very simple. It wasn't like a typical love story; it was more about the relationship between a pet and its owner. And, I can relate; I know how inseparable I am from my Chihuahua.
Did you identify with any of the characters?
I can relate to the sense of attachment to an animal and their attachment to humans. My little dog is like family to me.
Did it remind you of any other work in film?
It was definitely unique. It had the Disney vibe to it, but was very mature. It really painted an accurate portrait of Rio de Janeiro. It was way more visually stimulating than other movies I've seen.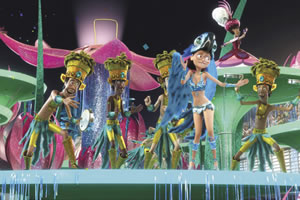 Would you buy this movie when it comes out on DVD?
For kids, I would, but it's definitely something you need to see in the theater to experience the colors and visuals. It was so good on the big screen. But, it would be a good one to put in the DVD library. I could see myself watching it many times.
Would you like to pursue lead acting roles in movies the way Dwayne Johnson (The Rock) has done so successfully?
I've been doing so many cameos in television and movies lately, but I was able to build up an impressive resume while I was with the World Wrestling Federation. I was able to break out and do things like Playboy and a lot of other projects. I enjoyed it and I was good at it. Like anything, it's easier to be good at something when you enjoy doing it. It would be great to get a steady role in television or film.
How does Hawaii fit into your future plans?
It's television pilot season, so there are a lot of ideas out there and some are going to stick. Since I've been out here in Hawaii, and I would like to relocate, I've already called Hawaii 5-0 about a possible role in the future. There's not as much going on here as in Los Angeles, but what is going on here is a big deal. There's a lot going on here that I'd like to participate in.
Most Recent Comment(s):