Wednesday - June 27, 2007

Movies Showtimes
Share

Rise Of The Silver Surfer
Kai Patterson
sixth-grade student/actor/host
As Told To Melissa Moniz
Where and with whom did you see the movie?
I saw it at Koko Marina with my dad for a Father's Day treat.
Overall what did you think?
I really liked it. It was really funny and action-packed.
Did you think it was better than the first movie?
I thought it had more funny parts than the first one. But I still think that I liked the first one better.
Did you have a favorite character?
I really like The Thing. He had a lot of funny scenes because he was the most weird character. He was made out of rock and he would get teased a lot. And he would be like, I'm going to kill you if you tease me again.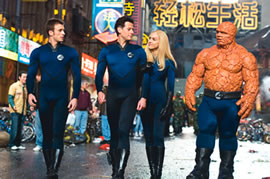 What did you think of the action in the movie?
It was cool.
How would you rate the acting?
I think the actors did a really good job acting in this movie.
What did you think of the special effects? Most of it was really realistic. The special effects for the Silver Surfer was really cool. He was a really weird character and they had really good special effects for him.
If you could change anything about the movie, what would you change?
At the end I think I would have made the Silver Surfer not die and open up his eyes.
Did you have a favorite scene?
I think I liked it the first time one of the characters touched another character and had his power. Their clothes went on fire and they were humiliated on the street. That was my favorite scene.
Did the movie wrap up nicely, or did it leave you thinking they're going to have another sequel?
It looked like there might be another sequel because we have this whole new character that like eats worlds. So I think there may be another movie.
On a four star rating with four being the highest, what would you rate the film?
Probably two stars.
In comparison to other movies you have seen this year, how does this movie rate?
I thought that this was one of the good movies that I saw. I also like Pirates of the Caribbean and Surf's Up. This movie was in my top three.
What's your favorite movie snack? Raisinettes.
Who is your favorite actor/actress?
I really like Johnny Depp.
What is your favorite movie of all time?
I think I would have to say Pirates of the Caribbean: Dead Man's Chest.
What's new?
I like watching movies because I want to be a director when I grow up. So I like watching movies to see different styles that people make their movies. That's pretty much what's going on.
What kind of movies do you want to direct?
I want to direct action and adventure and comedies.
You have a bunch of accomplishments. Can you elaborate on them?
Yeah, I submitted a commercial for the phone company Mobi PCS, and I won the contest and it was actually for high schoolers. I was only 11 then. Now I'm 12. They thought I did really good, so I was one of four people who won. I won a Mobi PCS phone with free service for a year. When I was 5 years old I was on the show Baywatch Hawaii, and I was a main character's son who had drowned. And I was also on Lost a few times. And I also did the show that got canceled after a few episodes called Hawaii. And I'm actually a host on my own segment on Brown Bags To Stardom.
Next week: a new movie, a new celebrity
Most Recent Comment(s):