Wednesday - January 10, 2007
By
.(JavaScript must be enabled to view this email address)

Movies Showtimes
Share

Rocky Balboa
Jesus Salud
"The Hawaiian Punch" Boxer
As Told To Melissa Moniz
Where and with whom did you see the movie?
I saw it at Kapolei Theatres by myself.
Overall what did you think of the movie?
I thought it was a good movie and great for boxing fans.
Did you have a favorite scene?
I like the scene when the champion gets beat in a virtual game against Rocky. And that goes to show you that the fighters today they're good, but they're not as tough as fighters back then. Back then they had a lot of heart.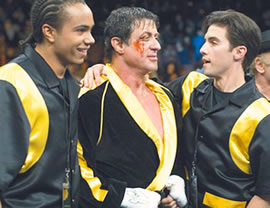 Aside from having more heart, what are some other differences between fighters then and now?
It shows in Rocky that they are the same level in boxing. For example, other sports like football and baseball, the difference is that the players are getting bigger, stronger and faster. Fighting is no different. But the new athletes, I think they let their emotions get in the way.The fighters back then, in the Joe Louis days, they don't go out and jump on the ropes. They just raise their hands, box and then walk out.They didn't beat down their opponents with words.
How do you think this Rocky movie compares to the others?
It's more like digging out the grave and looking at the old and the new. It's more like drama.
Were there a lot of fighting scenes, or was most of the movie outside of the ring?
Out of the ring, because he would go to the gym and fool around and spar just to stay active and stay interested.
Many critics felt early on that Sylvester Stallone is just too old to make another Rocky movie. Do you agree?
In the movie it didn't seem like it, but as a fighter myself, yeah, he's too old.And I think he did too much already. But it's kind of good because this one changes it up a little. Like this one compares the fighters now and in the past with like virtual fighting. In the virtual fighting he (Rocky) beat the champion.
Was there anything in the movie that you could relate to?
I can relate to Rocky being old and still in the gym training,and still training and thinking he still can do it. I can relate to that because I wasn't fully retired and was still active and I tried again, and in my last fight I knew from that moment that I lost some step and I got slower. So that was time to give it up. Sometimes when you're fighting a fighter and you're getting hit by punches that you can't get away from, and that's when you know that this is it because you can get seriously hurt.Your mind is real strong and will tell you things, but your body won't respond.For example, you see an open target and you go for it, but you miss it because your body isn't quick enough.Then you start feeling the punches more because when you're younger you shake it off real quick. When you get older it lingers and it doesn't go away.
As you mentioned, the premise of the movie is that Rocky comes out of retirement.A retired boxer yourself, do you think you have a fight or two left in you?
I know I can go maybe a few more fights, but I choose not to. I'm in the right frame of mind, and I've been fighting for 20 years and I have not been knocked out.I don't know how to get knocked out and I don't want to put myself in that position.All my losses were by decision or injuries, and I've been blessed with not getting knocked out. I don't want to get seriously hurt and get boxing syndrome. Fighters I know started to stutter, and my old friend is paralyzed in one part of his body.
Do you think the boxing scenes were accurate?
Actually, they exaggerate a lot and it's mostly for Hollywood.What happens is we don't cut the eye. They don't cut our eye. What they do is get Endswell (a metal device) and soak it in ice and put pressure on the eye and push on it.
That has to hurt, right?
You can't even feel it because of the adrenaline. Like when I get cut in the eye I don't even feel it, until I feel it. And the only way I know is when I feel the warm blood dripping down my face. It's the adrenaline.And in fact, after the fight they take me to the locker room and just stitch me up right there and I don't even feel it.
Why do you think people have grown attached to Rocky's character?
Because of the person he is.He's humble, and when he's around people he signs autographs for the kids. He looks his fans in the eye and especially acknowledges them.
What do you think you have most in common with Rocky?
His humbleness.
In a four star rating, with four being the highest, what would you rate it?
I would rate it three stars.
What's your favorite movie of all time?
Probably Braveheart and Gladiator. I like those kinds of movies.
What's your favorite Sylvester Stallone movie?
His Rambo movies.
What's your favorite boxing movie?
Cinderella Man.It's a true story and very inspiring. Imagine coming up from the brink of nothing and making something out of himself because of his will. What inspired me is when he paid those people back. That was awesome.
What's new?
I'm training with Superbrawl fighters and help with their hand skills. One day I hope to train kids and help out with anyone who needs help.Right now I work at the docks with the stevedores. I work a lot,so it's hard for me to commit,however, down the road I want to train fighters.In Hawaii there's a lot of talent,there just aren't a lot of venues for them to fight.When we were fighting, we would fight every other week.I feel bad because kids are training in the gym and they don't have any fights.All they do is train and train.
In your opinion, what age is appropriate for parents to start their child in boxing?
I think, to me, because I started fighting when I was 9 years old, so I think 9-10 years old because when they're too young their attention span is short.
Next week: a new movie, a new celebrity
Most Recent Comment(s):