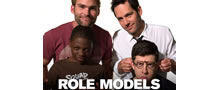 Wednesday - November 26, 2008

Movies Showtimes
Share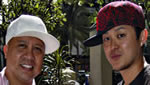 Kc And Taka
Power 104.3 morning show hosts
as told to Kerry Miller
Where and with whom did you see the movie?
KC: I went to see it by myself, I went to Dole.
Taka: Ward Theater with my girlfriend Kasey Anbress.
Overall, what did you think?
KC: There were some funny moments. I felt like in the beginning they were struggling to get the laughs; toward the end they had a pretty strong finish.
Taka: Maybe six out of 10. I guess the actor, Sean William Scott, he had funny moments overall. It wasn't like the best movie.
What about the acting, did anyone stand out?
KC: Paul Rudd, I thought he really stood out. Sean William Scott did the same schtick that he does, basically stuck to the same character that he's played in different movies.
Taka: The guy from Super Bad, he played a geeky character again. Him and Sean William Scott were funny together.
How funny is this movie compared to other Paul Rudd and Sean Williams Scott comedies?
KC: It was an average funny; it didn't make me go ballistic with laughs. I've had listeners call in and say that it's really funny. I didn't find it as funny as my listeners did.
Taka: It had funny moments, not like overall (funny).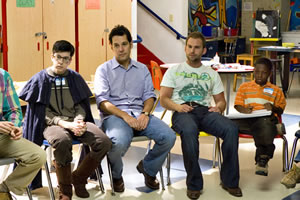 Considering the movie's title, Role Models, was there any overall message about being a good role model?
KC: That was a probably one of the saviours of the movie. There was an underlying theme of turning from a jerk to a good guy at the end. I thought that was cool the way they went about it.
Taka: If you like comedy movies, I think you can enjoy the movie.There are few comedies that are worth watching. This is one, but not actually the best.
Was there a song in the movie's soundtrack that you particularly liked? KC: Not really.The guys actually liked
KISS. They dressed up as the band at the end during the medieval re-enactment.
On a scale of one to four stars, what would you rate this movie overall?
KC: ★★.
Taka: ★1/2 or ★★.
To whom would you recommend this movie?
KC: I would recommend it to a group of people getting ready to party for a night out because, like I said, it would have made a big difference if I'd seen it with a bunch of my guy friends. It would have been a different story.
Taka: Maybe like younger adults.
What's new?
KC: We're giving away free gas, and they have to listen to KC and Taka in the morning to hear the "power song of the day" Monday through Friday. For details, go to Power104.3.com.We also have something going on - Friday nights KC and Taka are at Zanzabar, where we broadcast live from 11 p.m. to 1 a.m.We're going to have a really massive car show, it's called Hot Import Nights, on Dec. 5 at the Blaisdell. Dec. 1 is my birthday.
Taka: Free gas, that's the biggest promotion we are having now.
Most Recent Comment(s):