Wednesday - January 11, 2006
By
.(JavaScript must be enabled to view this email address)

Movies Showtimes
Share

Rumor Has It…
Movie Review with Crystal Akana
Radio Personality Island 98.5 Lanai & Augie Morning Show
As Told To Katie Young
Where and with whom did you see the movie?
Lanai, Augie and I made it a date. This is actually our first outing with just the three of us. We went to the Ward Theatres. Oh, and by the way, for the first time I paid!
Overall what did you think?
The movie didn't capture my attention much. It's a slower-paced movie than I'm use to. I figured it wasn't that great because I was answering my text messages during the movie.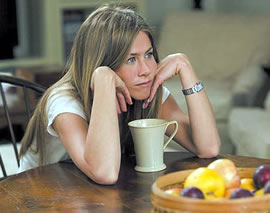 What was your favorite scene?
My favorite scene had to have been when Sarah (Jennifer Aniston) got caught kissing Beau (Kevin Costner) at a party by her fiance. It seems that no matter how far away you are from someone and you might think you're in the clear, you always get caught!
Did you have a favorite character?
Shirley MacLaine. She played "Grandma." She is blunt. Her character reminds me of my Grandma Akana, who tells it like it is. I would love to rock the clothes that she has when I'm about her age. She looked fabulous.
How would you rate the acting?
On a scale from 1 to 5 with 5 being the highest, I would have to rate the characters a 4. With names like Jennifer Aniston, Kevin Costner and Shirley MacLaine, these are all top-payed actor/actresses in Hollywood. The characters really blended and worked well together.
Did the movie have a meaning?
This is a funny question ... mmm ... let's see. No, not really. Basically, Sarah (Jenn) is looking for Beau (Kevin), whom she thinks is her father. He slept with her mom, who passed away, and her grandma (Shirley).When she finds out that he's sterile and is not her father, Sarah ends up sleeping with him too ... one screwed up family!
What was the best/worst aspect about the movie?
The best aspect would have to be that even if Sarah got caught kissing Kevin, her fiance still took her back. What kind of guy would take back his girl whom he'd seen cheating on him? I think that had to have been the best part of the movie. He took her back because of love. Love! In the end, that's what truly matters. Love conquers all.
Is it a movie that you would see again?
I don't think I'd see this movie again. Maybe if I got it for free or as a gift I'd watch it if I were bored. Would I watch it in the 50-cent theatre? No!
To whom would you recommend the film?
I would recommend this film to any screwed up person who slept with the same guy that her mother and grandmother slept with. They would definitely be able to relate to this movie, 'cause I certainly didn't.
On a four star rating, with four being the highest, what would you rate the movie?
I would have to say two stars. It didn't seem like they spent much money making the film. You do have to give props to the writer, though, for coming up with as weird a plot as this. To sleep with the same man your mother and grandmother did? Come on now!
What's your favorite movie snack?
It definitely has to be a Hurricane Popcorn, kaki mochi and furikake.
What's your favorite movie?
The Last Samurai. Even if I'm not Japanese I have so much respect for their culture. The movie is filled with action and has so much meaning.
How often do you go to the movies?
I rarely go the movies. Maybe if I had someone special to go with that would be nice, huh? Besides, movies are so expensive I'd rather stay home and watch CSI or The OC.
Who's your favorite movie buddy?
I don't have one, but if I wanted to go, I would go with my daddy. If I go with my dad I don't need to get ready, and the best part is he'll pay!
What genre of movies do you like?
I am not a boring person so I would have to say action. It's real, it's what's going on in the world, it lets your mind react quickly and most especially it's thrilling. Everyone loves the wild side every so often. It's exciting!
Who's your favorite actor/actress?
I love Steven Segal. He's the good guy who never dies and he's always in action movies. I love his role. He's the humble family guy, but when it comes down to it he's the man you want on your side.The best part is his running. Watch it and you'll know what I'm talking about.
What's new?
Lanai and Augie want a role in the hit series Lost except for the DUI part. As for myself, 2006 is going to be a great year. I have some things in mind, but just know you haven't seen anything yet. I'll be 23 this year and I'm not gonna be complacent. Let's just say you think you know, but you have no idea.
Next week: a new movie, a new celebrity
Most Recent Comment(s):