Wednesday - March 08, 2006
By
.(JavaScript must be enabled to view this email address)

Movies Showtimes
Share

Running Scared
Movie Review with Roz Makaula
MidWeek columnist, KHNL producer
As Told To Rasa Fournier
Where and with whom did you see the movie?
At Consolidated Theatres at Ward, and I took along one of my good friends, Gina Garcia, from KSSK.
Overall did you like the movie, and why?
That's a loaded question.I liked watching Paul Walker in the movie, but the movie itself was much too violent for me. When Gina and I walked out, we looked at each other and went, "OK, what just happened?"
Did you have any favorite scene(s)?
One of the scenes that stood out is when the main boy in the film,Oleg,is out having lunch with his dad, who is very abusive to him and his mother throughout the movie. At this point, Oleg is sitting there and he's confronted by this monster of a dad and he doesn't give in to his father. He sticks up for himself. He tells the father that he's not a good person. I love when the child stands up for himself.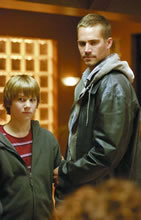 Did you have a favorite character?
It would have to be that same young boy, Oleg. He's the main character in the show,and he's my favorite because he perseveres in a cruel adult world that's just covered in violence and mayhem,and yet this kid who's about 10 makes it through.
How would you rate the acting?
The acting was excellent - Paul Walker, the young boy, Cameron Bright - really great acting. The characters are believable.
To whom would you recommend this film?
To folks who are interested in gangster movies that have to do with the mob and that kind of action-packed thriller ... go see it. You will literally sit on the edge of your seat, because if you don't, you're gonna jump up onto the edge of it anyway because of all of the shooting.
In a four star rating, with four being the highest, what would you and your companions rate this film?
One and 1/2, and that's only because Paul Walker is in it. It was too violent for me.
What is your favorite movie?
The Notebook.
What genre of movies do you like?
I enjoy romantic flicks and I love comedies ... love, love, love comedies.
Who is your favorite movie buddy?
I'm lucky because I don't have just one movie buddy. My movie buddies, they know who they are.
What's your favorite movie snack?
That's gotta be the popcorn and mochi crunch.
How often do you go to the movies?
Maybe twice a month.
Do you have a favorite actor/actress?
I really like Drew Barrymore and I also like Sanaa Lathan. Folks might know her from Brown Sugar. She just came out with a new release called Something New.That's a great movie. It's funny. I love Tom Hanks and I'm looking forward to seeing him in The Da Vinci Code.
Anything else you want to say about the movie?
If you decide to see it, hold on to your seat and be prepared. This is definitely, definitely an adult movie and there's a reason why it's rated R.
What's new with you?
Brown hair and 20 pounds (laughs). On a serious note, I'm on the advisory board for the Ho'ola Cancer Exercise Wellness Program for cancer patients and survivors. I'm also a volunteer for the American Cancer Society's 2006 Relay for Life that's coming up at Magic Island.And I just jumped on board to help in the plans for two of my alma maters, Kamehameha Schools and Chaminade University of Honolulu.
Next week: a new movie, a new celebrity
Most Recent Comment(s):