Wednesday - August 04, 2010
By
.(JavaScript must be enabled to view this email address)

Movies Showtimes
Share

Naoya Kusano
General Manager, Pablo McGinty's Mexican Cantina
Where and with whom did you see Salt?
I ended up seeing the premiere for Salt with my bar manager, his fiancee and my friend Chas.
Overall, what did you think?
We were all disappointed with the movie, I think due to the preposterousness of most of the stunts and gimmicks: a "McGyverish" weapon fashioned out of a trash can and a fire extinguisher; Salt (Angelina Jolie) bouncing off elevator shafts, 18-wheel semis and police cars all while leaving America's best CIA and Secret Service operatives in her wake, etc.
Was the director attempting to ride the Cold War wave of sleeper spies here in the U.S., perhaps commenting on our own national security issues? Too unrealistic ... I'm not even going to comment on the fact that Salt was able to get close enough to both the U.S. and Russian presidents to kill them by hand. Really?
On a scale of one to four stars, what would you rate this film?
I'd give it ★. The acting wasn't great, the story line was unrealistic and the cinematography was OK at best.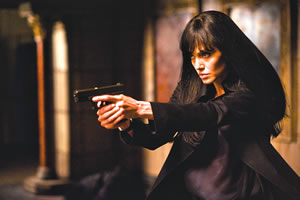 What were some of the things the directors did wrong?
I have to remember this film was made with Tom Cruise in mind for the lead role. Perhaps he would have lent a little more credibility to the character. Who knows?
This is by no means a sexist comment. The movie left itself wide open for a sequel. Maybe the writers will tailor-make the (sequel) movie more toward Jolie's strengths in acting.
Did the soundtrack contribute significantly to the film?
To be honest, I didn't pay much attention to the score ... in fact, I and my guests commented on the fact that we couldn't remember any music, good or bad.
To whom would you recommend this film?
I don't think I would recommend this film to anyone.
On a different note, what's new with you?
We are slated to and are hopeful for a mid-August opening for Pablo McGinty's Mexican Cantina. We are a few months behind schedule, but when we do open, Pablo McGinty's is going to be the most authentic Mexican restaurant that Honolulu has experienced!
Most Recent Comment(s):