Wednesday - November 08, 2006
By
.(JavaScript must be enabled to view this email address)

Movies Showtimes
Share
Saw III
Lincoln Jacobe
CEO, Hawaii Pacific Entertainment
As Told To Melissa Moniz
Where and with whom did you see the movie?
I went with with my mom at Pearlridge.
Overall what did you think of the movie?
Overall the movie was really scary. You're sitting in your seat like, oh my God, what's going to happen next? What bloody, gory detail is going to happen next? So it really kept me at the edge of my seat wondering what poor victim would be killed next.
So did you see Saw and Saw II?
Actually, I didn't see them.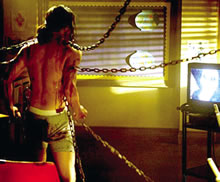 So you went in not really knowing what to expect?
That's correct. It was super, super, super scary.I think I had a headache after the whole thing.
Is it one of those scary movies that stays with you even after you're done watching it?
Yeah, it was really gory. But I did hear a lot about Saw and Saw II when they came out, but it's kind of good that I didn't see them. I just figured I'd see Saw III and then if I need to see the other two after then I would. But after watching it, then I thought if someone just saw Saw III then it's OK.To me, the storyline was well-planned-out.
Were there a lot of special effects?
There were special effects - a lot of cutting. Cameras cut in and out of the really bloody scenes often. So they did save some of that. It definitely did spare some extra-gory details. Even though there were scenes of blood gushing out and heads spinning off, they would cut to the next scene.
So would you say that it was too much in terms of gore and blood?
I think it was OK.
So were there a lot of killings in the movie?
Not an outrageous amount. Maybe like eight.There were about eight contraptions that were built for a specific torture. Every single trap was built to torture you in certain form and specifically designed for the person killed.
Do you think that this type of movie helps crazy or deranged people think of ways to hurt people?
Yes, that's why I still think about it.There are a lot of crazy people who would see this and possibly act on it. And so I did leave there thinking that these kinds of movies really shouldn't be allowed because it does give crazy people ideas of how to torture people in real life.And so that's what I took away from it.
Were the people who were tortured random or were they targeted?
Every person who was killed was targeted.And the reason they were targeted is he would know about their lives, whether it was through the media or watching them on TV. He felt that these people had no purpose in life to live, and he would pinpoint them and figure out how he can teach them forgiveness and about valuing life because he was dying. And so the ringmaster was terminally ill and because of that he would torture people whom he felt had no soul left.
Was it only torture, or did he always kill them at the end?
Everyone who was in there died. It was very interesting because even though they were told in the beginning of the torture game that if they can find their way out they could go, but he didn't allow that because he would weld the doors. So he really wanted them to die. He was pretty cruel in that sense.
In a four star rating, with four being the highest, what would you rate it?
I'd give it three stars.
What's your favorite movie snack?
Hot dog. I have to have a hot dog with ketchup.
What's your favorite scary movie?
Amityville Horror. I remember it so much as a kid, which is why it stands out.That's when I started to watch more horror movies.
What's your favorite genre?
I like scary movies, but I also love comedy movies because I get two feelings out of comedies.At comedies I laugh so much that I cry, and it's good to get those two feelings out at the same time. At the end of a comedy movie I feel complete.
What's new?
We're really working on everything for next year now and doing our whole planning for 2007 - it's kind of crazy.We're also launching a new television show with Jasmine Trias. It's a new variety television show that would be featuring Jasmine Trias as the host, and I'm going to be serving as executive producer and it would be a Hawaii Pacific Entertainment production. It will be entertainment, music, food and fashion. We've been working with several network stations for airing, so we're not going to announce that until we finalize it. So we are going to start filming in January,and we should have the product out by April 2007. So that's something new that we're working on and, of course, we are continuing to work on our concert production and promotions schedule.
Next week: a new movie, a new celebrity
Most Recent Comment(s):