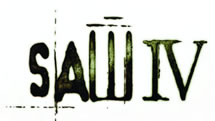 Wednesday - November 07, 2007
By Kerry Miller

Movies Showtimes
Share
Saw IV
Jeff Gere
Local storyteller
As Told To Kerry Miller
Where and with whom did you see the movie?
Ward Theatres with my friend, Kim, who's visiting from L.A.She's involved with the TV industry. She's been involved with nine such slasher films in the last year.
Overall, what did you think?
I didn't like it at all. I thought it was confused. It referred to if you'd gone to SAW I, II, III. A hodge podge of characters that you didn't care anything about.Kind of hard to follow. I didn't care about the characters a bit.Just sort of an exercise in The Bardo Realm of suffering - people dying in weird ways.
Are you a fan of scary movies?
Two years ago you sent me to see The Grudge.That one I was so moved by.Lord of the Rings, in a way,could be a scary story. The end of the first, much of the second. This one (SAW IV) has given me lots of pause to see why is it a movie doesn't work, and what are the elements that were missing. Why didn't they do that? Who was that guy?

How did the storyline work,with Jigsaw being dead as well as his apprentice Amanda?
It started with him (Jigsaw) being sawed, cut open by an autopsy team, cutting open his chest,peeling off the skin,digging into his belly and finding a tape in it.That was the big thing you saw through a flashback to explain things.(It was) lots of people with tapes telling them what to do. It kind of ends back in the morgue - the main guy is all cut open like in the beginning.You had to make these leaps. As a storyteller, one of the principal laws is you want to carry your audience along so they're not like, "huh, what?"The main investigator, you see him trying to find the next maimed body, and suddenly all his men are gone and he's a lone man with a gun.You're like,'huh?' The whole premise was like "wait a minute, these are cops?"The new FBI interrogator is trying to get the truth out of the ex-wife (of Jigsaw) and she's just a means to do a back story.Even with characters that reappear later in the movie ... so it was like disjointed conglomerations of stuff. When I put in the DVD of a movie, I'll walk around the house going "that was horrible." I feel like that right now. I'm not 15 and don't want to see people getting cut open. Standing on its own, I thought it was just ugly,stupid - that's a slasher movie.
They're so quickly presented you really don't have time to reflect on the dilemma, the profundity of the guys trying to play this chess game with this butcher.You'd think the code would be more of a point. Instead, it used a lot of very confusionary editing to try to build suspense or keep you.
Having now seen the last installment of the series, would you want to go back and see the other three?
No.Not that interested.If there was a character I could have hooked onto - that's one of the fundamentals of drama.
You're a storyteller. Does this remind you of any scary stories you've told?
I would never do anything like that.Not just because it has blood and mayhem, but it's not a well-crafted story. We don't care. (In a story) you don't have all the bells and whistles like a movie,but we need to care.Bottom line: It's gotta be a story. It ended with the guy you were led to believe was going to be electrocuted (he was going after the slasher guy).It was supposed to be clear that he's the guy who's the next nut.
When I construct a story when there's pressure and tension,it's good to have something funny.People need a release valve.There was no humor in this, no change in tone - everybody was serious all the time.There were no touching parts. Stories are full of things that happen in the beginning then it comes back around again.This wasn't well-crafted.
Favorite character?
The ex-wife, 'cuz she said,"I've gotta let him go,"and then she left the movie. The FBI guy had a female assistant, at least she was something to look at. She was kind of pretty.
How was the acting? Did anyone stand out?
If you call men with straight faces acting.They really didn't emote much except when their heads were bashed in.
Would you recommend this movie to anyone? If so, whom?
If you have a driver's license then this probably isn't the movie for you.You may enjoy this as much as the other SAWs.
On a scale of one to 10, how gory was this movie?
It was gory. It wasn't frightening. The point I'd like to make is if I were to tell you the gory parts you would be more scared. Storytelling involving the imagination of the listener is more pertinent than this graphic in-your-face. It's better to have seen it from another room far away - cinematically, it would have been a more effective device.They really must have needed another movie,just a money-making mechanism.
Out of four stars, with four being the highest, what would you rate this movie?
No stars for this movie.Nil,none,negative.
Favorite movie snack?
Popcorn.
Favorite actor/actress?
I've been doing the storytelling festival,touring,storytelling gigs.So,right now my favorite actor is Lopaka Kapanui - and me, on a good day.
What's new?
Touring was getting bigger crowds all the time.There's more quality. It's been a phenomenal tour.I'm turning my attention to getting my Haunted Hawaii CDs out for next Halloween.There's two already in the stores.Usually this is my down time. My birthday is Halloween.The peak season is over, and I'm glad. I have three weeks of intense work, then I'm delighted to just fade. I've got lots of projects (in the works). People can still get talk story radio on http://www.talkstoryradio.com on podcasts, free half hours. I've got 30 of them now.
Next week: a new movie, a new celebrity
Most Recent Comment(s):