Wednesday - November 03, 2010
By
.(JavaScript must be enabled to view this email address)

Movies Showtimes
Share

Dr. Emogene Yoshimura
President, Koko Crater
Equestrian Center
Where and with whom did you see the movie?
I saw the movie the first weekend it opened at Kahala Theaters. I went with the whole "barn" from our equestrian center, including our horse trainers and students. There were about 20 of us.
Overall, what did you think of the film?
I thought it was great, just fantastic. I would give it ★★★★. I really thought it was well-produced, well-directed and well-acted, too. This is a "must-see" movie for anyone who loves horses or anyone who wants to walk out of a movie feeling good. It's a fantastic morale booster if you need a little lift, whether you are a horseman or not.
From an equestrian perspective, was the movie accurate?
Absolutely, especially in its depiction of the horse-racing industry, which is quite different than the rest of the horse and equestrian industry.
What did you think of the cinematography?
I thought it was excellent. Maybe not as good as Seabiscuit, from a cinematography standpoint, but from a perspective of what they wanted to say, they said and showed it very well.
Was the message/theme clear?
The one quality I felt was shown very well in the film was the idea of believing in yourself and following your dreams.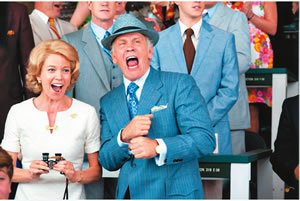 What was one of your favorite scenes in the film?
My favorite scene was when Secretariat was leading the rest of the field by about 30 lengths. It was just awesome. I am old enough to remember watching that live on TV back in 1973, and it was like living those feelings all over again.
Did this movie remind you of any other work in film?
The closest would be Seabiscuit, but there are definitely other films, like Dreamer and Black Stallion, that are all reminiscent of horse-themed movies.
Do you think you identified with any of the characters in the film?
Yes, I think I identified with the main character Penny, because she showed a lot of grit, and in that time in the horse industry you had to have that grit and determination to get anything done, especially as a woman. Women then did not have the same role as women have today. I am veterinarian taking care of horses, ponies, donkeys and mules, and back in the 1970s being a woman and a veterinarian did not go together. But times have changed.
On a different note, what's new with you?
Our horse ranch, Koko Head Equestrian Center, is located inside Koko Head Botanical Garden. We are very active with young people, bringing them up through the ranks starting from a very young age and ending up at horse shows. We work with Special Olympics and the disabled communities - adults as well as children. I think horses are the best thing for people because they have a healing power, and we always encourage people to just come to ride and feel the experience of getting on a horse.
Most Recent Comment(s):