Wednesday - March 12, 2008
By Kerry Miller

Movies Showtimes
Share

Kelly Grant
Kaimuki High Basketball Coach
As Told To Kerry Miller
Where and with whom did you see the movie?
I saw it at Ward Theatres, me and my older son, Payton.
Overall, what did you think?
I didn't really care for it.I liked the costumes. I remember watching ABA when I was younger, and the costumes are pretty close. It seems like the script was just given to them when they got to the set. There are so many other better sports movies out there that I'd rather watch. The Sandlot comes to mind - that's something that my family can watch over and over again.
Being a basketball coach and knowing a lot about the game, how realistic was this movie?
Not at all. When you play a sport and you watch sports movies like Tin Cup, you know that he's (Kevin Costner) not a golfer by watching his swing. For me, playing golf all these years, as much as you want it to be realistic, you know it's just not there.That's how I felt when I was watching this movie. I just didn't like the story that much. Some of the basketball movies I like to watch, they have actual NBA players, like Ray Allen was in one of them. Mostly I like to watch when they do sports scenes.
Are you a Will Ferrell fan? Was he funny in this movie?
No, I'm not a big fan of Will Ferrell.
What about the acting? Did anyone else stand out, like Woody Harrelson?
No.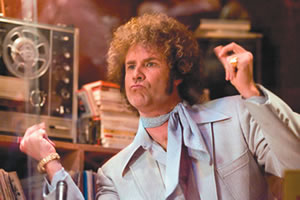 How does Semi-Pro compare to Will Ferrell's other comedies, sports or otherwise (Blades of Glory, Talladega Nights)?
I saw him in Old School.That one was OK. I thought the other characters really helped him. When his lines are too long and he's trying to force comedy, that's when it's no good. It's not natural, like he's trying too hard to be funny.
On a scale of one to four stars, what would you rate this movie?
★
To whom would you recommend this movie?
No one. Movies are so expensive now, so you've gotta be selective in what you see. I would probably want to rent and go down to Blockbuster.
What's your favorite type of movie to watch, and why?
I like comedies,but if I was to go to a theater I'd see an action movie. I like to go to movies and watch particularly action movies with real sound effects.
How often do you go to the movies?
I'd say like once a year now since my two boys are in sports. Both are playing baseball.
Favorite movie snack?
I like to eat the chocolate malts, if I eat dinner at home. And if I have to eat something (at the theater), I'll probably have a hot dog or popcorn with mochi.We tend to eat at home and have a small snack at the theater.
What's new?
It's baseball and volleyball season (at the schools) with the new change of schedules. My whole time is spent at Manoa Park with my two boys playing baseball. I played it until eighth grade.Baseball is technical.I'm spending time trying to learn it so I can teach it. I'm a teacher at Kaimuki High School.
Most Recent Comment(s):