Wednesday - January 06, 2010
By
.(JavaScript must be enabled to view this email address)

Movies Showtimes
Share

Rick Ornellas
Retired HPD Detective
Where and with whom did you see the movie?
First off I want to mention that,for the record, I am the original Sherlock Gomes, the Portuguese detective. But anyway, I saw it at Kahala Theaters with my wife Lehua and my mother-in-law Nani Sklar.
Overall, what did you think?
The movie was very entertaining.
They made Sherlock Holmes look like an action hero. He wasn't just a straight-up detective,he had mixed martial arts and all these different things that made it very entertaining. So overall, I liked it.
Aside from the visuals, how was the storyline?
The storyline was the same, like any other detective movie.You've got the evildoer or the bad guy,and you try to solve the crime to find out what he did and how he did it - basically get the evidence together and prove your case.The storyline was there, but it was typical.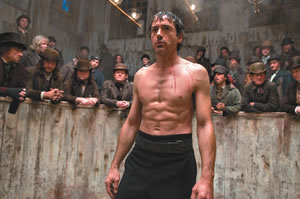 What would you rate this film on a scale of one to four stars?
I'd rate it about ★★★.
How was the acting? Did anyone stand out?
The chemistry was really nice between the characters.They were really great.Robert Downey and Jude Law got along really well.They all blended and did very well.
What was your favorite scene,and why?
My favorite scene was the slow motion of the bare-knuckles fistfight.Madonna would've been proud of her ex-husband Guy Ritchie because he put it into slow motion,and it showed the person's face getting disfigured by each punch.That was my favorite scene. But as far as who was my favorite character? It would be the bulldog.
Did this film remind you of any other movie you've seen?
The music in this film reminded me of Dexter, that series on TV. I could hear some pieces of music from Dexter when I saw the movie.There were pieces of Da Vinci Code because you have little clues and codes.And the flashbacks were fabulous.The audience is able to follow Sherlock
Holmes'thinking through the flashbacks,so that was a very welcoming tool that Guy Ritchie used. Also, The Mentalist, because some detectives are actually gifted in seeing through people and reading their minds.
Did you read the Sherlock Holmes books? Are you a fan of Conan Doyle's work?
A long time ago,and not all of them.He had like 50-something stories, so I did read a few of them,but not the entire package. Am I a fan of his? Well, when I went to London, I stayed at the Park Plaza Sherlock Holmes on 108 Baker St.,and he and Dr.Watson lived on 221B Baker St.
Would you recommend this movie?
Yes, I would, but it's not for young kids. It was an entertaining movie, but the setting is late 19th century London, so it's a dark film.
Most Recent Comment(s):