Wednesday - December 28, 2011
By
.(JavaScript must be enabled to view this email address)

Movies Showtimes
Share

Marino Louis Carreira
Honolulu CrimeStoppers
Where and with whom did you see the movie?
I went to the Koolau Theaters in Kaneohe, and I took my wife Joni.
Overall, what did you think?
I thought it was kind of a good mix of comedy, action and suspense. I didn't see the first one, so I didn't really know what to expect. Watching it for the first time, it wasn't just an action movie or just a comedy or suspense movie. It was all mixed up together in one.
There's this kind of chemistry between Watson and Holmes they're a team. They have that craving for action and excitement. Watson was getting married in this movie, and he had a wife. At the same time, he's got his best man, Holmes, who was trying to convince him to not settle down, so they can have one more great adventure.
Throughout the movie, Holmes would show up in these really wacky and unusual costumes, too. It was pretty entertaining.
On a scale of one to four stars, what would you rate this film?
★★★1/2. It wasn't the best movie I've ever seen. It seemed like every action scene was in super slow motion. A lot of the scenes were highly unrealistic and no one would survive in real life, but it's a movie, right? If it came out on DVD, I'd watch it again.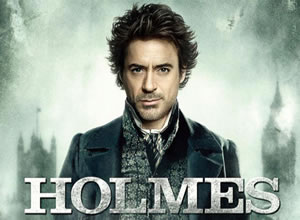 Without giving away the ending, what was one of your favorite scenes?
Watson was getting married, so Holmes was in charge of planning his stag party.
He was so obsessed with solving a crime, and he totally forgot
Watson's party and forgot to invite all his friends. Watson shows up, and the only people there are Holmes and his brother.
Watson was all irritated, but they make the best of it. It was a night of drinking, gambling, smoking and they end up fighting.
The next day they're driving to the ceremony, both of them have black eyes and Watson's sleeves are ripped off. It was a nice humor.
To whom would you recommend this movie?
Anyone looking around for an overall fun and exciting film. It's a good date or night-out-with-friends kind of movie. Not so much a family movie.
Did you identify with any of the characters?
Not necessarily the characters, but the relationship between Watson and Holmes. I think most guys can identify with this. Some guys have their friends, and they wanna go out and do guy things. The humor between the friends, I relate to that. The humor and how you couldn't really be the same way around other people.
On a different note, what's new with you?
I'm happy to be working with Sgt. Kim Buffett with the CrimeStoppers program. It's a good experience, and I'm learning a lot. We're preparing for our 2012 fundraiser March 23 at Honolulu Country Club. We're working with Raiatea Helm she's going to be performing live there, as well.
Most Recent Comment(s):