Wednesday - March 29, 2006

Movies Showtimes
Share

She's The Man
Movie Review with Hannah Thomas
Miss Hawaii Teen USA
As Told To Rasa Fournier
Where and with whom did you see the movie?
Koko Marina with my friend Austin.
Overall did you like the movie, and why?
I did. It was very funny. I was cracking up the whole time.
Did you have any favorite scene(s)?
A lot of the scenes are really funny, but my favorite part was all of the really funny characters. It wasn't just the lead character who was funny. All of her friends and the people she goes to school with are just hilarious.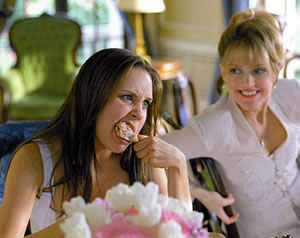 Did you have a favorite character?
Yes, but she wasn't really a lead character. She was so weird. She was a shy dork. She had braces and head gear (Eunice, played by Emily Perkins). Nobody really liked her. One of the guys thought she was hot, but it was a secret cuz she's such a loser. (Another favorite was) Amanda Bynes. I'm a really big fan of hers, cuz I actually got to meet her. When I went to California last year- our choir (Kamehameha Concert Glee Club) went up there to do a national convention - we ran into her at the mall and she was so nice. We were talking to her a little, and we got to take some pictures with her and she was super sweet.
How would you rate the acting?
Amanda Bynes didn't really act like a boy that well, but then I think that's just part of how she had to act. The acting was pretty right on. One of the lead guys was really hot; he was the one that Amanda Bynes really likes (Duke played by Channing Tatum). He was a good actor because he had to pretend that he could-n't talk to girls very well. It was really cute.
What were the best/worst aspects of the movie? Why?
The best was how Amanda got all of her friends to help her. She had the soccer girls pretend they were her/his ex girlfriends and all of the guys were like, "Oh my god, how did he get all of the hot chicks?" It was pretty funny. It was like a team effort. One bad aspect was in the beginning. Amanda had to pretend she was her brother to make the boy's soccer team. Right at the beginning the coach was like, "Boys are better than girls. Girls would never be able to play soccer as well as boys." And I don't think any coach would ever say that.
Was there a particular message the movie tried to get across?
It was just funny. It was hilarious; it made me happy. It's the kind of movie that when you leave the theater you're like, "Oh, I gotta go back to my life." You kinda wish you were in it, cuz the guy was so hot. (chuckles).
To whom would you recommend this film?
To anybody who wants to have a good laugh, and to someone who's just been seeing crappy movies for a long time. I have the worst luck in choosing movies, and I saw this one and I was glad I watched it. I just saw Ultraviolet and it sucked.
In a four star rating, with four being the highest, what would you and your friend rate this film?
Three and 1/2 stars.
What is your favorite movie?
Goldmember with Mike Meyers. What genre of movies do you like?
Comedy.
Who is your favorite movie buddy?
I hardly go to movies, but I guess my movie buddy is Kaiu.
Anything else you want to say about the movie?
It's a good movie to go to see with your family or friends. It's funny.
What's new with you?
I was busy even before the pageant (Miss Hawaii Teen USA) cuz I'm involved in so many activities, but now I'm really busy. I need to do a lot of appearances. Appearances are anything from singing at a promotion to having dinner. Coming up, I have a food drive to go to. I already got to meet the mayor and Kimo Kahoano, so that was cool. It's exciting, it's fun. I just need to make sure that I stay who I am. I still need to eat lots of junk food and go to the beach a lot.
(Before they called my name) I was thinking about eating. I was like, "No matter what happens, I get to go out to dinner with my family and grind." After, it didn't feel real and it still isn't real. It hasn't hit me yet. I just knew that my family was proud of me so I was happy.
I didn't hear about (the pageant) until three weeks before and my auntie told me, "You should do it," and I was like "Nah, I dunno." I didn't really want to, I'm not a pageant kind of girl. I don't remember the last time I brushed my hair, well maybe for the pageant. I had to practice wearing heels. That was about a week before.
I worked out every morning, went to sports in the afternoon. I stopped eating carbs and no snacks or sugars. I still ate a lot, but just healthy. I kept telling myself I don't wanna jiggle when I walk.
Do you have siblings?
There's five of us. I'm the second to the last.
How was your life before the pageant?
During the week I do sports, whether it's kayaking season, swimming season or water polo season.
Saturdays I'm at Sandy's or I'm surfing with my friends. On Sundays it's church, then voice lessons, then it's beach until acting lessons.
I sing at church. I sing at parties a lot. If my friends or family have a party, they'll ask me to sing. I also play guitar and I sing reggae, and I cruise at the beach and we all just have a big jam session. It's really fun, that's how my life is.
Next week: a new movie, a new celebrity
Most Recent Comment(s):