Wednesday - March 10, 2010
By
.(JavaScript must be enabled to view this email address)

Movies Showtimes
Share

Egan Inoue
MMA star of The Champion Hawaii and owner of The Studio
Where and with whom did you see the film?
I took my daughter Tia, and we went to Kahala.
Overall, what did you think?
I liked the show. I really did. I thought it was real different for Jackie Chan. My daughter, though, she was just like, "Eh, it was all right." (Laughs)
On a scale of one to four stars, what would you rate this movie?
I would say this was ★★★ for me. I could see where a lot of people might not like a movie like this, but I did because it's something kind of like what I've experienced in my life and career, and I've been a part of that. For me, I understood the feelings and the struggle - they had to do what they had to do.
How was the acting?
I loved Jackie Chan, of course. I thought he was great as a furious guy instead of a funny guy. You saw that he was a good person inside, but he had to man up and do what he had to do to get where he needed to get. He was hardworking. He also actually acted like he didn't know how to fight, which was great acting for him, especially knowing his background.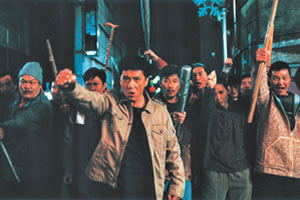 Was the film in English or did it use subtitles?
It was in subtitles. That's another reason I might like this more than others - I like old Chinese films done in this style.
How were the martial arts sequences?
The fighting was more like street fighting, not martial arts.You think that Jackie Chan will do martial arts, but it was just straight street brawling. I kept waiting for Chan to pull out some good choreographed fight scenes, but they never came.
Was the story line easy to follow?
It wasn't one of those shows where you can guess the ending, but it was easy to follow, just not to figure out.
To whom would you recommend this film?
I think people my age (44) and up would appreciate this show.There were a lot of in-depth meanings and themes to pick up, but it was great because there were also little life lessons that I was able to talk to my daughter about.
Would you buy this movie on DVD?
I would for sure. It's great to have something like that where you can pick up on all the little lessons and themes in the big picture.
On a different note, what's new with you?
The newest thing I'm doing is a women's self-defense class at the Honolulu Club every Monday at 5:30, and everyone is welcome.
Most Recent Comment(s):