Wednesday - June 02, 2010
By
.(JavaScript must be enabled to view this email address)

Movies Showtimes
Share

Angela Laprete
Producer, cre808 films
Where and with whom did you see the film?
I saw it at Koko Marina 8 in Hawaii Kai with my 8-year-old son Aiden and my husband,Chico Powell.
Overall, what did you think?
I loved it. I love all the Shrek films, and I find them so much fun and entertaining.I really enjoyed it. There were moments that were hilarious and others that were very emotional - it just touched on all the bases.
On a scale of one to four stars, what would you rate Shrek Forever After?
I'd say ★★★ 1/2,because I walked out feeling very entertained. It was pretty much exactly what I expected. It's a great family film.
How was the animation?
It's so intricate and so beautifully done visually.Though I work in the movie business, I've never worked on an animated film, so every time I see one I am amazed by how far it (animation) has come.When they'd do close-ups on, say, the fingers of a character,they almost looked human.I get blown away by the detail that goes into animation these days.
Did the storyline stack up to that of the film's predecessors?
There were recurring roles like Puss in Boots (voiced by Antonio Banderas) and Fiona (Cameron Diaz),but there were some new characters like the Pied Piper (no voice) and Rumpelstiltskin (Walt Dohrn) that I loved as well.There was the same fairy tale theme underlying it all,but each character also had a slight twist on their traditional roles. I think it definitely held up to the other films.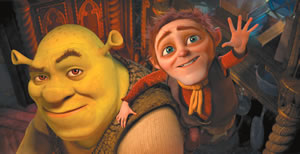 Did the soundtrack contribute significantly to the film?
The music was hilarious.It really played into the storyline. Donkey's (Eddie Murphy) renditions of some of the '80s and '90s music was very entertaining as well.
To whom would you recommend this movie?
I'd recommend it to anybody.It's a great family film, a great date film, even a great newlywed film - just great all around.
Without giving away the ending, what was one of your favorite scenes and why?
The beginning of the film opens with Shrek (Mike Meyers) and Fiona going through their daily routines with three new babies,and Shrek is steadily losing his identity as an ogre.It actually looks like he's going through a midlife crisis, when really he's just getting started as a dad.I just felt it was so real,so human - especially for men.I think all women and wives will laugh at that part.
Was the message/theme clear?
The storyline is very universal in terms of movie making, but in terms of animation,it stands alone. You don't know what you've got until it's gone - throughout the film,Shrek realizes that the grass isn't always greener on the other side.The journey he takes and the appreciation he gains for his life was very real and very human.The emotions often get to you, which is very impressive for any film.
On a different note, what's new with you?
I've been working on the Hawaii 5-0, pilot and the show recently got picked up, so I'll be production supervisor on the series,which I'm excited about because it was one of my favorite TV shows of all time growing up. My company,cre808 films,is also working on developing a movie of our own,and other than that I'm just looking forward to a really fun and busy summer.
Most Recent Comment(s):