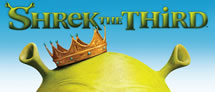 Wednesday - May 29, 2007

Movies Showtimes
Share

Shrek The Third
Mary Jo Bautista
Miss Oahu Filipina
As Told To Melissa Moniz
Where and with whom did you see the movie?
I went to Windward Mall and I watched it with my friends.
Overall what did you think of the movie?
I think it was a pretty funny movie. I normally don't watch animated movies, but this one was pretty funny. I enjoyed it.
So did you see Shrek and Shrek 2?
I saw some of the first one and I saw the second.
So how do you think this movie compares to the first two?
I liked the third one better than the other two.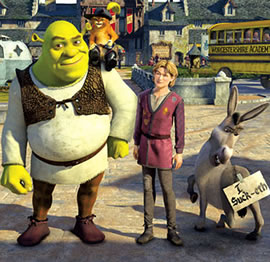 What was your favorite scene?
I think my favorite scene was in the beginning when Shrek and Fiona had to act as king and queen for a day.
I thought that whole part was funny, when Shrek was trying to throw a bottle at the ship, and when they opened the curtains and he made someone scratch his butt for him. That was funny.
Did the movie wrap up nicely, or did it leave you thinking that there might be another sequel?
I think it looks like they're going to end
Is this a movie that you would see again?
Yes, definitely. It's a pretty funny movie and I enjoyed it.
To what type of audience would you recommend the film?
I think to all ages. Of course, younger kids would like it because it's animated, but there's enough adult jokes for older people to watch.
Was there anything in the movie that made it not appropriate for really young children?
No, I don't think so.
In a four star rating, with four being the highest, what would you rate it?
Probably a three and 1/2 stars.
What's your favorite movie snack?
The cookie dough bites.
What's your favorite movie?
Troy.
Who's your favorite movie buddy?
My friends who I went to see this movie with.
What's new?
Right now I'm just getting ready for the Miss Oahu Filipina pageant. I'm going to give away my title in three weeks. It's going to be on June 9 at the Pearl City Cultural Center.
So how has this whole year as Miss Oahu Filipina been for you?
It was really fun, mainly because it was the centennial for the Filipinos in Hawaii. So I had a lot of appearances and a lot of good experiences, especially when I went to the Philippines and toured around there.
Are you planning to enter another pageant?
Actually, yeah. I'm going to be doing the Miss Hawaii International.
Next week: a new movie, a new celebrity
Most Recent Comment(s):