Wednesday - August 20, 2008
By Kerry Miller

Movies Showtimes
Share

KATHERYN POTTER
HPU public relations/advertising student
Where and with whom did you see the movie?
I saw it at Ward with my friend Martin Valdez.
Overall, what did you think?
The movie was really girly, but I liked it a lot.
Did you see the first Sisterhood movie? How does this compare?
Usually a sequel is never up to par. They were both about the same. This one is growing up and going out into the world; it's getting more mature. I think it was equal (to the first movie). You don't have to see the first one to see the second one. Martin didn't see the first one, and he understood it.
From a woman's perspective, what did you take away from this movie? Any message or something you can apply to your own life?
I think at least one girl can relate to one of the characters in the movie. It shows what we all have in common - the friends thing, the boy thing, I guess your true friends will always be with you. That's what I would take away.
What about the four main characters? How did they grow and change, and what did they learn?
I think my favorite character, Bridget, played by Blake Lively, she had the most changes; she found the most about her past. She was the one who got the most closure. America Ferrera, she kind of didn't really change or evolve much. I thought that Lina, the one who has all these love interests, she ended her story, basically. Two characters kind of had closure, the others were the same.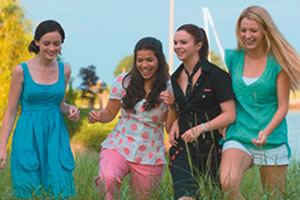 What about the acting? Did anyone stand out?
America Ferrera is one my favorite actresses. Anything that she does is good. There was a new guy in the movie and he was gorgeous. All the cheesy parts came from the guys. The girls did a good job capturing their characters.
On a scale of one to four stars, what would you rate this movie?
Probably ★★ 1/2, only because it didn't blow my mind away. But some parts were funny. It kept me entertained.
To whom would you recommend this movie?
I wouldn't recommend this movie to any of my guy friends. It's a girls-night-out kind of movie. It was targeted especially toward college-age girls.
Favorite movie snack?
My favorite is pickles, that's what we have down South, where I'm from. I have to have peanut M&Ms and usually water.
What's new?
I go to HPU. Summer school is about to end for me this week. I've been watching the Olympics and cheering for Michael Phelps like I'm his mother. I'm majoring in public relations and advertising. I'm between a junior and a senior right now.
Most Recent Comment(s):