Wednesday - April 13, 2011
By
.(JavaScript must be enabled to view this email address)

Movies Showtimes
Share

"Bruddah Bryan" Min
Radio Personality/Emcee
Overall, what did you think?
I enjoyed watching this movie. It kinda reminded me of the movie Inception. You've really gotta pay attention to figure out if Capt. Colter Stevens (Jake Gyllenhaal) is dreaming or living in reality. Good plot and it keeps you on the edge of your seat!
On a scale of one to four stars, how would you rate this film?
I'd give this buggah ★★★★.
Was the message/theme of the film clear?
Yes, pretty much. It made me appreciate eight minutes of my life! You gotta watch the film to see what I mean.
Gyllenhaal made the most of eight minutes. He made every minute count, which in reality is what you've gotta do to enjoy life.
Did you identify with any of the characters?
Gyllenhaal, because no matter how many obstacles were in his way, he never gave up until he achieved his goal.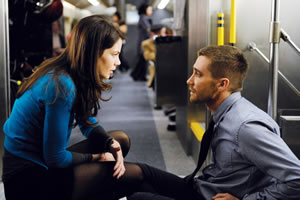 Did it remind you of any other work in film?
Maybe Blackhawk Down meets Inception?
To whom would you recommend this movie?
I'd say this is a great movie for everyone.
Would you buy this movie when it comes out on dvd?
Only if it was in the $5 bin at Walmart ... Nah, yes, I would most definitely add this to my collection!
On a different note, what's new with you?
I have been rockin' the airwaves Monday through Friday nights on 102.7 Da BOMB. On the weekends, I emcee events. So, if you need an emcee, holler at me: 852-0827!
Most Recent Comment(s):