Wednesday - May 27, 2009
By Kerry Miller

Movies Showtimes
Share

Dr. Hugo Higa
Ophthalmologist
as told to Kerry Miller
Where and with whom did you see the movie?
I saw it at the Ward Stadium with Neal Atebara, a fellow Trekkie.
Overall, what did you think?
It was a great movie.
How well did the actors, in your opinion, portray the younger versions of James Kirk, Spock and other members of the Enterprise crew?
I think there were some variations with Kirk, even with Spock, but the way they explained the movie was that there was an alternate reality.
It gave them life to do whatever they wanted with the characters. There were some definite differences with the characters. Overall, they were pretty true to the characters, especially Checkov and McCoy.
Leonard Nimoy was there; he played a role as Spock.
As a fan of Star Trek, what did you think of the movie's storyline? Did you like the direction it took with the characters and their outcomes?
To be honest, I think that the story itself was kind of secondary to the development of the characters. There were bad guys who were destroying the galaxy, the planets, then the Enterprise was there to save the galaxy.
What made it a good story was the development of Kirk and Spock and how they became friends, and how the crew got to know each other. It was the characters, rather than the story, that made it interesting for me.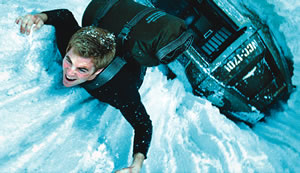 How was the movie visually? Were there any cool special effects or characters with cool costumes and makeup?
When I watch the original Star Trek, things were done with wires, you could see it (the Enterprise) wobble back and forth. The special effects were good; the Enterprise looked very much like the original one.The uniforms were a little different; they did keep the red, the mustard and blue (colors), and the little pins.
Did you have a favorite scene or character?
I just enjoyed it. Spock and Kirk were the main characters, and it was done in such a way that they really dominated. It followed the whole montage of Star Trek and how it started. You don't have to know anything about Star Trek to really enjoy it.
Would you buy this movie on DVD?
Definitely.It's the best Star Trek movie of the eight or so that have come out so far. I think the next-best one is First Contact.
On a scale of one to four stars, what would you rate this movie?
★★★★ definitely.
What's new?
I'm an ophthalmologist. I do a lot of cataract surgery and eyelid plastic surgery. We have a facility here where we do laser resurfacing using a new laser called a Fraxel. Laser resur-facing is reducing wrinkles and reducing age spots.We're expanding our office; we're now having an office on Maui.
Most Recent Comment(s):