Wednesday - August 23, 2006
By
.(JavaScript must be enabled to view this email address)

Movies Showtimes
Share

Step Up
Movie Review with Jason Ulep
Hypersquad founder and director
As Told To Melissa Moniz
Where and with whom did you see the movie?
I saw it in Mililani with Sara.
Overall what did you think of the movie?
I thought it was a good storyline, but it wasn't really realistic.
What did you think about the dancing? Was that well done?
Not really.A few people liked the dancing just because the guy Tyler was supposed to be like a model or something. But I didn't think the dancing was that good.It might have just been me, because I dance and all, so maybe if they're not a dancer they'll like it. But the kids here in Hawaii are at a completely different level then what's in that movie.
What about the dancing wasn't impressive? Was it the choreography or the skill of the dancers?
It was probably the actors'skill.
The camera angles tried to fake a lot of things. Like they would clip away and they wouldn't let a lot of the moves get played out from a wide angle so you could appreciate it.Like the freestyling - they would zoom out,but as soon as more technical things came in they started hitting it with weird angles, and it would be fast clips so you can't really see the moves. It just looks exciting because of the camera angles.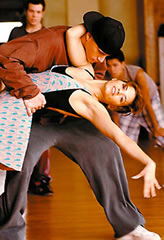 What style of dancing did they do?
They did hip-hop, street, popping, and he did a little bit of breaking. But the rest of it was jazz and ballet - more technical.
How did this movie compare to other dance movies recently released?
I didn't see Honey,but a lot of people said it was better than Honey.But I think You Got Served was a lot better than this movie as far as dancing goes.
How was the acting?
The acting was actually OK.
Is it a movie that you would see again?
I probably wouldn't see it again.The thing I really didn't like about the movie is that the guy Tyler, he quits on the girl.And this is something that would never happen in the dance world. He quits on the girl and then shows up at their final recital like five minutes before she's supposed to go on stage.And this is after they changed her whole production and routine, and adjusted it because he dropped out.And he shows up and they let him do the number. A director would never do this. On top of this, what was even worse is that every single one of her backup dancers was cheering when she tells them that they're going back to the old routine. There's no way, because everyone would be so mad at him because everyone learned the whole routine, and then with him dropping out they probably had to rehearse for hours and hours to change it.And then for him to just walk in and be like, oh I want to do it now - no one would be happy. To me, that was the dumbest thing in the movie.
In a four star rating, with four being the highest, what would you rate it?
Maybe two stars.
What's your favorite movie snack?
Probably popcorn.
What's your favorite movie? I like Titanic.
How often do you go to the movies?
Actually I haven't been to the movies since the last time I went with Sara. So it's been over a year since I went to the movies.
Do you have a favorite actor or actress?
Not really, but I like Jack Nicholson.
What's new?
We just got a new dance studio (in Waipahu),so we're in the process of finishing up the renovations, and we just finished up our 10th annual dance con-
cert.So we're probably going to get ready for a Christmas show at Ala Moana,and then I'm planning on taking our company to the Mainland to compete.
Next week: a new movie, a new celebrity
Most Recent Comment(s):