Wednesday - April 06, 2011
By
.(JavaScript must be enabled to view this email address)

Movies Showtimes
Share

Yoza
Musician
Overall, what did you think?
Overall, I thought the movie was OK. I went in expecting a bust after reading the summary of it. However, it actually exceeded my expectations - which is not really saying much because I had low expectations to begin with. Its quality relied on its special effects alone. The storyline was weak, and the only non-action parts were honestly really cheesy. Very "girl power," but definitely not a family film. It was pretty depressing.
On a scale of one to four stars, how would you rate this film?
That really depends on if you like action films, but I guess I'd give it ★★★.
Was the message/theme of the film clear?
Yes, it was pretty easy to follow. The premise of the film was pretty original too.
Did you identify with any of the characters?
Absolutely not. Besides the fact that I'm not a girly girl, I definitely can't fight like that.
Did it remind you of any other work in film?
Definitely. Think Kill Bill or any other Quentin Tarantino film, but with a weak storyline and no mystery, and add some Portishead/Radiohead music throughout.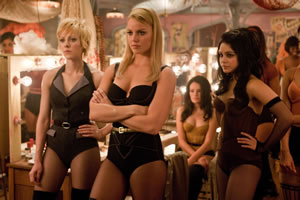 Who would you recommend this movie to?
Anyone who wants to waste their money, and anyone I don't like.
Would you buy this movie when it comes out on DVD?
If it was on sale, maybe. But, only for the action. Plus, the makeup they were wearing gave me some good ideas.
On a different note, what's new with you?
Right now, we are getting ready to release my first single. I work here and there with JN Chevrolet, and we recently released a commercial for them.
I'm working in the studio with the very talented Shawn Pimental and Michael Grande, and we've got enough original tracks for the album, so we should just be busy working on that this year.
On a personal level, I'll be traveling to Honduras for a month to spend time with my family. It'll be nice to get away for a minute!
Most Recent Comment(s):