Wednesday - June 22, 2011
By
.(JavaScript must be enabled to view this email address)

Movies Showtimes
Share

Kaleo Del Sol
Recording Artist with Esperanza Records Hawaii
Where did you see the movie?
Mililani Consolidated Theaters with my nacho cheese-flavored popcorn powder.
Overall, what did you think?
It seems when the main characters are all kids, the movie is targeted toward kids.
If it happens to be targeted toward adults, the plot will usually portray some sort of loss of innocence, but this isn't the case in Super 8.
The characters got to keep their smiles, and I, at 26, got to feel like the movie was designed for me. Most of the laughs come from scenes where the kids are affected - yet simultaneously unaffected - by what is going on around them; they're more concerned with firecrackers and french fries than impending extraterrestrial doom, and it's both hilarious and endearing.
On a scale of one to four stars, how would you rate this film?
Good writing, good acting, and good directing: ★★★1/2.
Was the message/theme of the film clear?
The most prominent theme was summed up in one line: "Bad things happen," said the young hero, as he looked calmly into the face of alien death, "but you can still live!" In film, the line is as un-profound as it looks on paper, but the viewer may appreciate the subtle way this message is communicated throughout the movie: in the grief of a son and father, in the forgiveness between two wounded neighbors, in a town seeking justice amid destruction, and in the departure of a prisoner set free. Along the way, a forbidden love mini-drama unfolds, which serves as a pleasant and very welcome addition.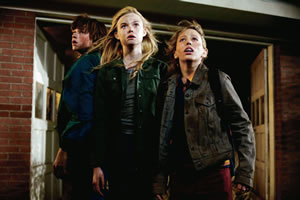 Did you identify with any of the characters?
I would like to say the compassionate protagonist, but honestly, I relate more with the chubby, adolescent director who asks a pretty girl to be a part of his artistic project in vain hopes that she would fall in love with him.
Did it remind you of any other work in film?
Like Signs, the script consistently hints at alien invasion, but you don't get to see what the aliens look like until about three-quarters of the way through. Despite that similarity, my overall experience with Signs was completely different from when I watched this film. Super 8 is sci-fi, but in an oddly natural way. Yes, aliens are involved, but the film's honest and unbroken Mayberry ambiance managed to disarm my inner cynic.
To whom would you recommend this movie?
This is a great date movie, with about three to five bona fide spook moments, but beyond that, the characters' collective youthful innocence is sweet (and remarkably un-cheesy). It's also good for families with kids ages 12 and up. It might freak out the elementary schoolers, and there's some cussing, so it'd be a good idea to leave the small ones at home.
Would you buy this movie when it comes out on DVD?
I rarely watch movies twice, so probably not. Doesn't mean I didn't have a blast watching it the first time, though!
On a different note, what's new with you?
I just released my first single since Aloha For Now and it's called Can't Say I Love You (available on iTunes or www.kaleomusic.com). At Studio Ala Moana, award-winning producer Shawn Pimental will be the brain and muscle behind my sophomore studio record - just as soon as we wrap up Lehua Kalima's debut solo album, which could be in stores as soon as this fall! In addition to writing with these iconic Hawaii music makers, I also have the opportunity to create with Yoza, one of Hawaii's hottest rising stars.
Most Recent Comment(s):