Wednesday - October 07, 2009
By
.(JavaScript must be enabled to view this email address)

Movies Showtimes
Share

Keoki Kerr
News Reporter, KITV
Where and with whom did you see the movie?
I saw it at Koolau Stadium in Temple Valley with my friend Alan Lemieux.
Overall, what did you think?
Oh, man. It really wasn't that great. But what can I say? It's a Bruce Willis film (laughs). I mean, I loved the concept that people have created these robots that they live their lives through. Like, you don't have to go out into the real world anymore. It's like a giant video game.
It was such an interesting idea, but the story itself was cliche and predictable. Even the music was predictable.And it didn't help that Bruce Willis' surrogate has this ridiculous blond wig on all the time ... I just couldn't get over it.
What about the acting? Did anyone stand out?
The acting was OK. Bruce Willis deserves credit, and the woman who played his wife (Rosamund Pike) was wonderful. But honestly, all of those robots running around reminded me a lot of politicians I've covered in my time (as a reporter) in how they always give you robotic answers.
On a scale of one to four stars, what would you rate this movie?
Honestly, I have to give it ★★, just because the story was predictable and the overall cheesiness overshadowed the interesting concept of a world full of robots. It had a weird old-Star Trek quality to it every now and then in that it had a lot of useless blinking lights. (Laughs) It just reminded me of a game we played in college called "Beer Trek," where you would take a drink every time a useless light blinked. In this movie, though, you could've done this for a lot of things: every time you see Bruce Willis in his crazy blond wig, every time they say or do something cliche, just about anything. Mercifully, it was short - just an hour and a half. But, in this case, you kind of wanted it to end.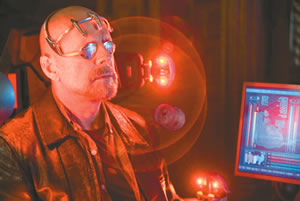 What was one of your major pet peeves about this film?
There are a lot of people who die in car crashes in this movie, even though it is supposedly set in the present. There's not one airbag in the movie - and I'm talking many, many people dying in car crashes. It just wasn't believable.
So I'm guessing the movie wasn't worth the ticket price?
Oh, no (laughs). This is a definitely a matinée or a wait-until-it-comes-on-TV-or-Netflix type of film.
Who would you recommend this movie to?
I got the feeling that they are going to do a video game for this movie, so I'd recommend it to teenage boys. If you love the action/thriller, it was great. A lot of the action scenes were really cool, and the chase scenes were really exciting.
So what's new with you?
I'm working on the Society of Professional Journalists Gridiron show. It's our annual fundraiser satire show, and our performance dates are set for Oct. 23 and 24 at Diamond Head Theatre. People can get tickets at http://www.ticketmaster.com. I'm the co-artistic director and we have a cast of 45 media people - writers, reporters,anchors and more - all playing the characters in the show. I'm also excited because Dan Cooke (TV news reporter) is back and will be playing Linda Lingle.This year more than ever I think we just need a good laugh, with the recession and pay cuts and people out of work. Come on down and check us out!
Most Recent Comment(s):