Wednesday - January 09, 2008

Movies Showtimes
Share
Where and with whom did you see the movie?
I saw it with my wife Sandi at Dole Cannery in an almost deserted theater.
Overall, what did you think?
I thought it was visually stunning and relatively true to the stage play.It was somewhat overall graphic,but to be expected in a Tim Burton movie.There's a certain humor that was missing from the movie, I thought.
Manoa Valley Theatre did Sweeney Todd in 1991-1992. How is the Tim Burton version different or similar?
It's a play that can be done in a minimalist fashion. It doesn't require extensive staging.We had an imaginative set and extraordinarily talented people.Stephen Sondheim,his lyrics and music are difficult to appreciate. It was a very successful play (at MVT),extended multiple times when we did it.The intimacy of the theater with the nature of the play, made it a success. It's not for everybody,it's about death,revenge and carving people up into meat pies.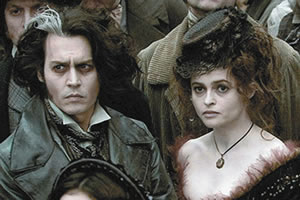 You've seen Sweeney Todd on Broadway before, tell me about the experience? How is it different seeing it on film vs. on stage?
It's a very difficult piece,it has a very depressing subject. I think it is a much more effective piece as a stage play, than as as movie. The stage play centered around the (Stephen) Sondheim time score and some fascinating music with extraordinary lyrics,and I'm not sure it translates easily into a movie.At least technically - colorization, make-up of actors, I thought they gave it the right tone.I frankly thought they could have done the movie a little more tongue in check. It has to do with the revenge of a common person against the establishment.With Tim Burton and Johnny Depp I expected a wider tone, without the graphic violence. It doesn't translate to film very easily. It's a very bare bones play, it doesn't require extensive sets or other types of technical wizardry. So there's an intimacy in the play that is lost obviously on the screen.
How were the performances of Johnny Depp and Helena Bonham Carter? I heard they did all their own singing, were they good?
I thought the singing was better than expected, by Johnny Depp and Helena Bonham Carter. I think the movie is a good effort from a very difficult subject.Some actors and actresses in the two non-lead roles,the young boy and some of the other non-leads, had excellent voices. On ballads I was very impressed with Johnny Depp on his ability to do it himself. He did a great job.
To whom would you recommend this movie?
I would recommend it to people who like to see a lot of blood, to people who appreciate the technical aspects of film - colorizations, costuming, make-up, the artistry of film because Tim Burton is definitely an artist. It's not for people who expect to go in there and be entertained for two hours by happy singing and dancing, it's not Dreamgirls. Fans of the- ater who'd like to compare it to the stage version, should go. Fans of Johnny Depp to see how extraordinarily talented he is. It's not the best film I've ever seen, it's not the best adaptation of a play I've ever seen, but I found the two hours were well spent.
On a scale of 1-4, what would rate this movie?
I would give it three stars.
Favorite movie snack?
I rarely eat in the movies because I hate
it when people around me are making more noise with their popcorn then on the screen. My favorite movie snack of all time is bon bons - it's quiet, it's messy. If I have to go locally, it's a Coke Icee.
What's new?
We're opening Doubt, a Pulitzer Prizewinning play,it opens next week (at Manoa Valley Theatre) with an extraordinary cast. It's a very thought-provoking play; I saw it in the Pasadena Playhouse.It's about the Catholic Church and a nun who believes a priest has engaged in inappropriate sexual conduct. It's the kind of play where when it's over, there's a stunned silence.
It's so engrossing, the theme is so topical.It's the kind of theater that people need to go see.It keeps you mesmerized for days after. It is what American theater needs
Next week: a new movie, a new celebrity
Most Recent Comment(s):