Wednesday - April 19, 2006
By
.(JavaScript must be enabled to view this email address)

Movies Showtimes
Share

Take The Lead
Executive Director of the Hispanic Center of Hawaii, Alma Latina Recording Artist
As Told To Rasa Fournier
Where and with whom did you see the movie?
Dole Cannery with my husband John, my daughter Gena Dutro, and her son (my grandson) Blaine Dutro.
Overall did you like the movie, and why?
Absolutely. It had valuable lessons. One of the lessons being never give up. You can be whatever you want and do whatever you want if you don't give up. Always be a leader.
Did you have any favorite scene(s)?
There were many. One was when Pierre Dulaine spoke up to the parents. They were going to cut the dancing program at the school, and he spoke to the PTA and told them, "You people don't understand that these kids, the only way that they learn is through dancing." No matter what, he was going to teach these kids to dance and give them a chance, and give them their dream that they can be something or someone.
Did you have a favorite character?
Yeah, of course, Pierre Dulaine. He took it upon himself to get involved and to make a positive difference. Others didn't even see the potential of these kids.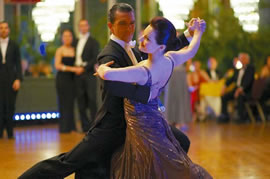 How would you rate the acting?
On a scale of 1 to 4, definitely a 4.
What were the best/worst aspects of the movie? Why?
The best was the reality of the world we live in (that if we persevere, we can be someone). As far as the bad, I didn't think there were any negative aspects.
Was there a particular message the movie tried to get across?
It conveyed that each of us can become anything we choose to. All we have to do is believe in ourselves and show up to learn.
It conveyed that we can choose to give up or stand up. It also conveyed, especially for people who work with youth, that music is a universal language.
To whom would you recommend this film?
To everyone, but especially to teachers and students. (The movie shows that) if teachers feel that they give up on kids sometimes thinking the kid will never learn, they should never give up, because every child has something to offer.
In a four star rating, with four being the highest, what would you rate this film?
Four stars.
Is it a movie you would see again?
Absolutely. In fact, my other little grandson, Trevor Perry, went to see it yesterday and he's only 9 years old. He said, "Grandma, let's go to Windward Mall and let's go see the movie again."
What is your favorite movie?
I like musicals and I like movies that have dance. Shall We Dance and Havana Nights were great, but Take the Lead was actually one of the best because it had a little bit of everything. I did see Madea's Family
Reunion. That was good, it was funny. I also went to see Inside Man because I like Denzel Washington.
What's new with you?
I am the executive director of The Hispanic Center of Hawaii and I have a radio show called Alma Latina, which means Latin Soul. It's on (KWAI/K-108 1080AM) every Sunday from 1 to 4 p.m. I also run three Latin venues. On Thursday night it's at Rumours in the Ala Moana Hotel; Friday night at Panama Hatties in Aiea, I run Zona Latina; Saturday night I run Salsa Dreams on the Green, and that's at Sam Snead's Tavern at the Navy/Marine golf course. I'm also working very hard for our Salsathon that's coming up in June. It's like a mini salsa congress with lots of salsa
Next week: a new movie, a new celebrity
Most Recent Comment(s):