Wednesday - September 05, 2007
By
.(JavaScript must be enabled to view this email address)

Movies Showtimes
Share

The 11th Hour
Shane Seggar
Program Director for Pacific Islanders in Communications
As Told To Melissa Moniz
Where and with whom did you see the movie?
I saw it at Dole Cannery and I was all by myself.
Overall what did you think?
Overall, I think that while the issues are important,I didn't think the film was that effective.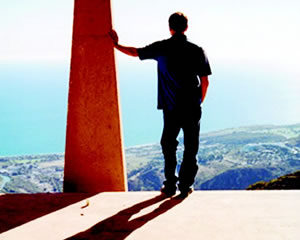 Is there another movie that you've seen that this movie was similar to, or did it stand on its own?
I sort of just fell on its own.
(laughs) There's a film that we funded called Time and Tide about the rising ocean and the Pacific. It's about how Tuvalu is about to fall under the ocean because of global warming.It's this little story about this group who decide to go back to Tuvalu to claim their family land, and when they get there they see what global warming has done to their homes.You see real people's lives and the impact that it's having on them. You see that half the beaches have been washed away and coconut trees are falling into the ocean because they have nothing to hold on to anymore.You see taro patches withering because the salt water has come into their water table and so the plants can't survive.You see a whole way of life.And mind you, this isn't the strongest film either, but it has a more personal impact.The problem with 11th Hour is they spend practically a whole hour kind off trying to scare the audience into why global warming is a problem.And I think that the audience is kind of to the point where we get it already.Then they spend like 15 minutes trying to tell us all the things we can do to make things better. The thing is that they should have been flipped.
They should have spent 15 minutes making a case,which is all the time they needed.And then spend time telling us what's happening, what's available out there, what are big corporations doing to solve this problem,and what can we do as individuals.And sometimes they would show us information which had to do with what was being said, but they wouldn't reference it directly.So you didn't know exactly what it is that you are seeing.I counted after in the credits and they had over 40 interviews, which meant basically that it was non-stop talking and it wasn't necessarily effective. It was so overwhelming with information,so much that you don't hear anything.
So Leonardo DiCaprio narrated the film and then they had interviews between the narration?
Leonardo DiCaprio was hardly even there. He didn't speak that much.But there was also this curious "Where's Waldo?" thing going on with DiCaprio because he would show up in shots and you would know it was him. Oftentimes he would be in silhouette or he would be walking through the shot in scenes where there were crowds. So by the end of the film you spend a lot of time trying to see if Leonardo DiCaprio is in the shot.
Do you think the film was very preachy? And if so, is that why the film lost its appeal?
It was kind of preachy, but for me the appeal was lost with so much going on and not enough explanation about what was going on.There was just too much happening,too much talking.It seemed obvious that the filmmakers knew that there was a lot going on,so they would take breaks and just do some visual montages. Sometimes it worked and sometimes it was like I don't understand why this is here. So on one hand it's always good to have people aware of this issue, but I don't know if this is the most effective.
What was the upside of the film?
Even though it was a little overwhelming with information and even though the here's what's being done and what we can do was too short, I did leave feeling, OK this is a problem but this is solvable. Which I think is the most important message to get from it.There are solutions out there, but in order to understand what those solutions are as a public, we are going to need more than a 90 minute film that does what this one does.
So were the interviews with everyday people affected by it or experts?
All experts,but it was all sorts of people.It was all intellectuals or academics who are working with the problem.Some of them were a little wacky, they talked about these homes built into the earth. They are interesting, but the style was a little wacky. This was actually one of the few times they actually explained what was going on and the designs of the buildings wasn't very attractive and wasn't really mainstream stuff. So while it's great that these people are doing this, they spent time on something that mainstream would probably not embrace.So you need to know who your audience is and provide options for people that won't take too much effort.
On a four star rating with four being the highest, what would you rate the film? Honestly, I'd give it one and 1/2 stars.
What's your favorite movie snack?
Since I moved here my favorite movie snack is the Cinnabon Pretzel. I haven't seen anything like it before I came here.
What is your favorite movie of all time?
I actually don't have one, but I have a favorite filmmaker,Elia Kazan.He directed On the Waterfront, East of Eden and a whole bunch more.
What's new?
We continue to work with filmmakers from the Pacific to tell the stories of the Pacific on PBS. A couple of projects that we're excited about is the telling of the story off the Kamehameha Schools song contest. It's behind the scenes and follows the song leaders through the process in having the songs arranged for their class and getting their classes prepared - the stuff leading up to the final contest. Then we see who wins and probably understand that wining is important, but what's more important is that you have all these kids emotionally invested.Filming started the end of last school year and will continue to end of school next year.The air dates are not set yet. Village Back to the Rock is something else we're working on.When Samoan families in America have problems with their kids they send them back to Samoa to get in touch with their culture to give them stability in their lives. We got a couple being sent back,one whose parents want to send them back and we have a couple others who have already returned and been there a couple years.And we have another who spent time in Samoa and is back in L.A. trying to make a difference.
Next week: a new movie, a new celebrity
Most Recent Comment(s):