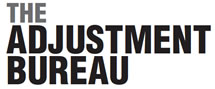 Wednesday - March 16, 2011
By
.(JavaScript must be enabled to view this email address)

Movies Showtimes
Share

Lehua Kalima
Award-Winning Musician
With whom did you see the movie?
I went alone - my kids were in school and I wanted to focus on the movie so I could give a good review. I saw it at Ward's Titan XC theater. I like that one, the seats are super comfortable and recline.
Overall, what did you think?
I really liked this movie. I thought it was going to be a suspense film, but it was actually a lot deeper, and while there were moments of suspense, it was more of a love story, I'd say.
The characters were very likable and without giving too much away, the issues they had to deal with are pretty universal, so it was easy to relate to their situation. I think Matt Damon in the lead as David Norris was a good choice.
He's believable as an up-and-coming New York congressman, and Emily Blunt as Elise, the woman who comes into his life and turns things upside down, is excellent in her role too.
On a scale of one to four stars, how would you rate this film?
I'd give it ★★★1/2. I think if they had developed her character a little more or went into both of their pasts, it may have built a more solid bond between them in the viewers' mind.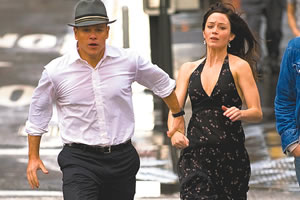 Was the message/theme of the film clear?
I believe it was crystal clear: Free will versus fate (or divine intervention). The idea that we create our own destiny by the choices we make versus fate already deciding for us has been a fundamental argument throughout the ages. This film at first implies that we are all just pawns in an already-played chess match, but through the twists and turns and tests of character we find there is much more to it than that.
Did you identify with any of the characters?
I guess I would identify with David Norris. I'm not a man and I'm not running for political office, but I can relate to how he put his emotions and feelings before his own practicality and was willing to give up everything in order to take the chance to be with the one thing that made him "not alone." I guess I'm a hopeless romantic at heart.
Would you buy this movie when it comes out on DVD?
I may. I think seeing it once was good enough for me, but I may want to have it in case any of my friends didn't see it so I could play it for them. I could definitely watch it a few times!
On a different note, what's new with you?
Well, personally, I've been keeping busy being a mom to my three children, and professionally I've been keeping busy with
Na Leo just doing our thing! We have a Mother's Day concert coming up in May, then some gigs in California in June, and then a 10-day tour in Japan in July, so this summer will be busy! Also, I've been for the past two years now working on a solo recording project. I wrote a bunch of new songs and collaborated on a few with Kaleo del Sol and Shawn Pimental (who is also co-producing the album with me). It's been a lot of fun and a departure from my traditional Hawaiian and Na Leo music. I'm hoping to finish it up by early summer and release it by late summer. It's exciting to try new things with my music and my voice and, like David Norris did in this film, follow my heart and take a leap of faith.
Most Recent Comment(s):