Wednesday - January 18, 2012
By
.(JavaScript must be enabled to view this email address)

Movies Showtimes
Share

Mailani Makainai
Singer/Songwriter
Where and with whom did you see the movie?
I saw it at Consolidated Theaters Koolau with my daughter Ha'eha'e.
Overall what did you think?
I actually really liked it. I laughed a lot, more than I expected to.
I wasn't familiar with who Tintin was, but I did enjoy it.
Without giving away the ending, what was one of your favorite scenes?
I had a lot of different favorite scenes. The pirate scene was really cool when they were on the ship, and I laughed really hard when they were in the desert, too.
The whole movie was adventurous, and just the imagination that went into creating this movie was really good.
On a scale of one to four stars, what would you rate this film?
I would actually rate it ★★★★ .
I know other critics didn't rate this film very well, but I guess I didn't expect much.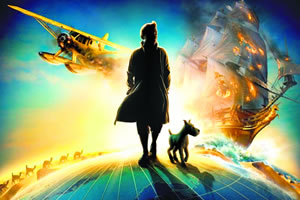 I didn't go in with a lot of expectations, so I was surprised how good and how interesting it was.
I hope they make another Tintin.
What did you think of the cinematography?
I really liked the cinematography. The graphics were awesome, and the storyline was really cute, too.
Who would you recommend this movie to?
It was definitely a good movie to take your family to. My daughter laughed a lot.
Did any of the actors stand out?
Tintin definitely stood out, but to me Captain Haddock (an alcoholic), whom Tintin had to work with, was good.
Just thinking about it is making me smile right now.
Did you identify with any of the characters?
Not really. In a way, I find some type of similarities between myself and them, but not too much.
Did the soundtrack contribute significantly to the film?
I thought the soundtrack was good. As a musician, you would think I would pay attention to the music, but the music didn't stand out as much as the graphics.
Everything was eye opening. It's amazing to see how far cinematography has come.
Would you buy this movie when it comes out on DVD?
Yes.
What's your favorite movie snack?
I love to get popcorn, and I love to get Milk Duds.
I like to eat it together with the popcorn.
It's so bad for you, but it tastes so good mixed together.
On a different note, what's new with you?
I'm promoting my album Aina, which came out earlier last year.
At the end of May, I have another album coming out. I've been working hard on it.
I've also been traveling and playing music a lot in Waikiki and on the Neighbor Islands.
Most Recent Comment(s):