Wednesday - September 22, 2010
By
.(JavaScript must be enabled to view this email address)

Movies Showtimes
Share

Jordan Segundo
Singer/Actor/Television Host
Where and with whom did you see the movie?
I saw the film at Ward Theaters with my manager Nancy Bernal and her husband Al Waterson.
Overall, what did you think?
Honestly, this film is not for everyone. It is not your typical Hollywood action thriller with explosive and chase scenes. It really is a simple, slow-paced but thoughtful film. There was not much dialogue. The film was basically told through the intense perceptions Jack (George Clooney) has about his life and the world around him. People will either walk away thinking it was a very unique film or they will walk away bored.
On a scale of one to four stars, what would you rate this film?
★★.
Without giving away the ending, what was one of your favorite scenes?
I enjoyed the scene when Jack goes to test this high-powered rifle and the character Ingrid (Irina Bjorklund) is explaining the details of the incredible weapon, used specifically by assassins.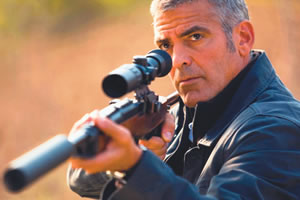 Was the message/theme clear?
I felt that the message circled around dealing with your own sins and shortcomings in life, living with past regrets and the longing Jack has for a normal life.
What about the acting? Did anyone stand out?
I thought the acting was great, the cast was very believable. George Clooney gave an excellent performance in this film. He was able to portray an intensity and depth that his character certainly needed. Without Clooney, the movie would not have been the same.
To whom would you recommend this movie ?
I would not recommend this movie to someone who is looking for that typical Hollywood thriller. George does not play his usual cool, casual style.The film has a dark tone to it, and it is definitely for a mature audience.
Was the movie as good as the previews made it out to be?
I felt that the previews were a bit deceiving. It was more of an art type of film, almost on an indie level.
What's your favorite movie snack?
My favorite movie snack has to be Reese's Peanut Butter Cups.
On a different note, what's new with you?
I am still performing here in Hawaii and on the Mainland, and I'm currently pursuing several acting roles. I also am working and participating as an inspirational speaker and performer for the Adult Friends for Youth and D.A.R.E programs. Fans can also see what I'm up to at Jsegundo.com.
Most Recent Comment(s):