Wednesday - August 09, 2006
By
.(JavaScript must be enabled to view this email address)

Movies Showtimes
Share

The Ant Bully
Movie Review with Erin deNeeve Baum
Baby Boot Camp Director and Instructor
As Told To Melissa Moniz
Where and with whom did you see the movie?
I saw the movie at Mililani Consolidated Theatres with my son Alex, who is 3, and my husband, Lenny.
Overall what did you think of the movie?
I liked it. I didn't think it was the greatest children's movie or animated movie. But it was entertaining and it kept Alex entertained. It was a little older than his age, I think.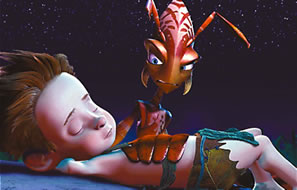 What other animated movie would you compare it to?
I think because it wasn't Disney it wasn't that really sweet tone. It was a little crude, I guess because it was PG. But there was like crude bodily functions jokes and boy jokes. But it's hard to say what other movie it could be compared to because I really don't watch a whole bunch of animated movies.
Did you have a favorite scene in the movie?
They had a scene where they were hang-gliding through the main character's bedroom. And this is after he was shrunk down to the size of an ant. But anyway, they were hang-gliding through their room and it was cute because they went past a painting of Hawaii. So it was just cute, I liked that part.
How would you describe the main character?
He was supposed to be an average kid,but he was a little bit bratty, which is normal. But it seemed that his family just moved into a new neighborhood,so he himself was the target of a neighborhood bully, and so to let out his feelings of being bullied,he bullied the ants. So he would try to damage the ant hills,water them and stomp on them. So he was a little mean-spirited and wasn't an innocent child. But the purpose of the movie was for him to learn and see things from a different perspective.
Do you think that kids will learn anything from seeing the movie?
Yeah,I think it teaches them to function as part of a community, and that each person has a special part and place. He had to be an ant and get that lesson that each of their jobs contribute to the greater good.So he was supposed to get that lesson,and if he learned the lesson they would set him free.And he could go home to his family.
So how did the whole shrinking thing happen? Was it like some magic spell?
It was actually.In the ant colony there were several characters that were important, and one was voiced by Nicolas Cage, and he was a wizard.So he made a spell and that's how the boy got shrunk.
Is it a movie that you would see again or perhaps buy when it comes out on DVD?
We might buy it when it comes out on DVD,but not for me - for my son.But we probably wouldn't go see it again in the theaters.
What was your son's reaction to the movie?
He liked it.It actually kept his attention for the whole movie, so that's a big deal. He's a 3-year-old boy, so it's hard for him to sit still. I do think, though,that some of it was over his head,but he didn't get bored.
In a four star rating, with four being the highest, what would you rate it?
I'd say two 1/2 to three stars. And that's compared to other animated movies.
What's your favorite movie snack?
Anything chocolate.And I do like popcorn.
What's your favorite movie?
Probably my favorite, and I haven't seen it in a while, but it would be Field of Dreams.I remember when it first came out everyone was saying to go see it,but I was like it's about baseball and I don't want to watch baseball. But it's not really about baseball - it's a really good movie.
Do you have a favorite kid movie that your son likes to watch and/or you enjoy watching with him?
He likes Monsters Inc.and the nice thing about certain children's movies such
as Monsters Inc. is that they keep the adults entertained.
What's new?
Well,one big thing that's going on with us is Alex will be starting preschool later

this month,so that's a big change.However he will only be going part time. But I'm still busy with work. I work at Mililani Physical Therapy,and then with Baby Boot Camp, teaching and directing that. And
Next week: a new movie, a new celebrity
Most Recent Comment(s):