Wednesday - April 12, 2006
By
.(JavaScript must be enabled to view this email address)

Movies Showtimes
Share

The Benchwarmers
Movie Review with Aaron Sala
Recording Artist
As Told To Rasa Fournier
Where and with whom did you see the movie?
Ward Theaters with my girlfriend, her sister and her parents.
Overall did you like the movie, and why?
When my girlfriend heard I was going to see Benchwarmers, she said,"Do they know who they're sending?" because usually I don't go to comedies in the theater, but we enjoyed it very much. I enjoyed it too because usually Rob Schneider plays very intellectual parts, but in this movie it was a different take, he was a reformed bully. It was a good family movie.
Did you have any favorite scene(s)?
There's a character who has agoraphobia and he has to come outside to accept Girl Scout cookies, and he's deathly afraid of the sun. It's just one big mess trying to get from the door to the gate, back to the door - it's amazing.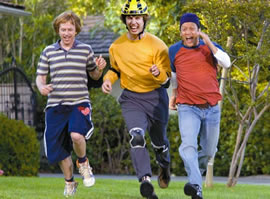 Did you have a favorite character?
They all kind of worked together for me.
How would you rate the acting?
On a scale of 1 to 5, 5 being the best, I give the acting definitely a 4.5.They were great.
What were the best/worst aspects of the movie? Why?
The best is that the movie talks about bullies and those who are bullied and the relationship between the two, and growing out of it and not growing out of it.The worst aspect is that it went really fast.I thought there could have been a little bit more character development on several of the characters. Rob Schneider's character, you don't really get a feel for him until past three quarters of the movie, and then the movie is done. It's less than two hours long (85 minutes). It moves really quickly, which I like, but then you lose the character development part,who the characters really are. By the time you start to get a feel for them, the movie is done.
To whom would you recommend this film?
Definitely comedy lovers. It's good for elementary-age children and their parents, and sports lovers, and definitely nerds and bullies alike.
In a four star rating, with four being the highest, what would you and your companions rate this film?
Three Stars
What is your favorite movie?
Right now it's The Exorcism of Emily Rose. Actually, it's still The Mission (1986) with Robert De Niro.
What genre of movies do you like?
Drama.
Who is your favorite movie buddy?
It changes,depending on the kind of movie that I go to.
What's your favorite movie snack?
Popcorn full of butter.
How often do you go to the movies?
Probably once a week. I try to go as often as possible.
Do you have a favorite actor/actress?
Robert De Niro and, right now , Julia Roberts is my favorite actress.
Anything else you want to say about the movie?
It was a great movie.
What's new with you?
I have a CD out, Ka 'Upu Aloha - Alone With My Thoughts. Right now I'm focusing on Merrie Monarch and playing for six halau. I have a full traveling schedule this year. I'm going to Maryland next week, and then Merrie Monarch is the week after.Then I go to California to perform, and then to Japan at the end of May,and then I go to Japan a few more times this year. I'm working on my master's degree at UH, and
that's in ethnomusicology, and I also teach at the Center for Hawaiian Studies at UH.
Next week: a new movie, a new celebrity
Most Recent Comment(s):