Wednesday - March 31, 2010
By
.(JavaScript must be enabled to view this email address)

Movies Showtimes
Share

James Lindblad
Former Bounty Hunter and President of A-1 Bail Bonds
Where and with whom did you see the film?
I saw it at Koko Marina with my wife,Evelyn.
Overall, what did you think?
What a fantastic movie - best chick flick ever! A love story with a twist.Best one I've seen since Titanic.
On a scale of one to four stars, what would you rate this movie?
This is a minimum ★★★ movie. Every bail bondsman out there, every bounty hunter,every man who has a relationship,every woman - they just can't not love this movie.
How was the acting? Did anyone stand out?
The men are going to love looking at Jennifer Aniston because they had some of the greatest shots of her and she is so adorable. I'd never seen Gerard Butler before,but I really enjoyed him, too - very funny. Three other character actors stood out too: the bail bondsman, the bookie, and the mother of Jennifer Aniston (Christine Baranski).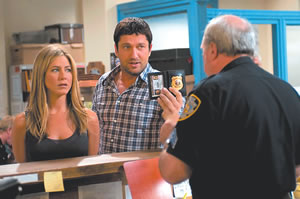 What about the music? Did it play a significant role in the film?
The music is just to die for. I loved it. The music tells the story even if you get lost in the plot.
What was one of your favorite scenes and why?
I enjoyed how they showed the bail agent, Sid,(Jeff Garlin) having a campout with his children at the bail office,and if you see the movie that's a big deal for every bail bondsman or any sole proprietor who has children,because they (the kids) always like to camp out at the office with us.There were several terrific chase scenes,too.I just enjoyed seeing myself in the movie,as a former bounty hunter,a bail bondsman, a parent and especially as a husband. I could feel myself falling in love all over again.
So I guess the storyline was pretty
entertaining, huh?
I was extremely entertained.I think the movie keeps romance alive. I can see where some critics might think the movie was a little slow or where other reviewers might not like it as much as I did,but they're probably jaded from going to too many movies.
On a different note, what's new with you?
Currently, our industry is working with the Legislature trying to speed up the release process for pretrial inmates on bail at OCCC and other correctional facilities statewide. We're trying to urge the courts to allow for an after-hours bail bond filing clerk,which would help save the state time,trouble and money.We think the quicker we release those persons already deemed bailable,the better it is for all concerned, especially the state.
Senate Bill 2534 put forth by Beth Chapman passed the Senate recently and is at the House level,and it will require the Department of Public Safety to accept bail when the court is closed, which basically would benefit those who end up at these correctional facilities on the weekends and Furlough Fridays, and speed up the release process.We'd just like to see those persons held at these facilities benefiting from the same excellent bail collecting services that HPD provides 24/7.
Most Recent Comment(s):