Wednesday - June 14, 2006
By
.(JavaScript must be enabled to view this email address)

Movies Showtimes
Share

The Break-Up
Movie Review with Joann Shin
KHNL News 8 Reporter
As Told To Katie Young
Where and with whom did you see the movie?
I saw the movie at Ward 16 Theatres with my boyfriend, Mike.
Overall what did you think?
The Break-up was OK, but not memorable. I was expecting a lighthearted comedy with lots of a laughs. Instead, I watched Jennifer Aniston and Vince Vaughn's characters fight through most of the movie. I endured the sometimes ugly and bitter fighting hoping that it would pay off in the end, but I left a bit disappointed thinking, "That's how it ends?!"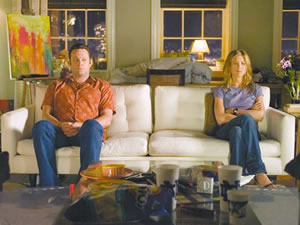 What was your favorite scene?
I liked the scene where the brother of Jennifer Aniston's character breaks out in song at a family dinner and tries to get everyone to participate, including a reluctant Vince Vaughn.
Did you have a favorite character?
I thought having Jon Favreau in the movie was a nice touch. He kept the movie light, playing the buddy of Vaughn.
How would you rate the acting?
Good. Vince Vaughn is entertaining, quick-witted and hilarious. Jennifer Aniston's performance was believable and heartfelt.
Did the movie have a meaning?
Don't take for granted your wife/husband or girlfriend/boyfriend. In this case, by the time you realize what you've got, it's too late to save your relationship.
What was the best/worst aspect about the movie?
The best part of the movie was that you could relate to the couple. But the worst part was watching them fight because they went to such lengths to hurt each other - it was very mean-spirited at times.You're thinking, if you hate each other that much, just break up already!
On a four star rating, with four being the highest, what would you rate the movie?
Two stars.
Is it a movie that you would see again?
No.
To whom would you recommend the film?
If you're a Vince Vaughn or a Jennifer Aniston fan ... but I'd recommend waiting to see it on DVD.
What's your favorite movie snack?
Popcorn.
How often do you go to the movies?
I go to the movies about twice a month.
Who's your favorite movie buddy?
My boyfriend usually, but for the sappy romantic comedies or chick flicks,I love going with my girlfriends!
What genre of movies do you like?
I love a good drama that sucks you in, and romantic comedies that have you weeping by the end, when the guy gets the girl.
Who's your favorite actor/actress?
Tom Hanks is one of my favorites because he's the type of actor who gets into his roles and his movies are usually good. He's believable in his roles, whereas,when I watch a movie with Brad Pitt, I think I'm watching Brad Pitt, not his onscreen character.
What's new?
I'm one of the chairs for the upcoming national convention for Asian American Journalists Association in Waikiki.The convention is expected to draw more than 1,000 journalists from across the nation this month.

Next week: a new movie, a new celebrity
Most Recent Comment(s):