Wednesday - September 07, 2005

Movies Showtimes
Share

The Brothers Grimm
Movie Review with Jo Ann Schindler
State Librarian
As Told To Katie Young
Where and with whom did you see the movie?
My husband Mark and I saw The Brothers Grimm at Dole Cannery Theatres.
Overall what did you think?
This was an undistinguished effort by director Terry Gilliam with a few mildly amusing moments.
What was your favorite scene?
There was a tip of the hat to Casablanca when occupying Napoleonic troops swagger into a German tavern, complete with La Marseillaise.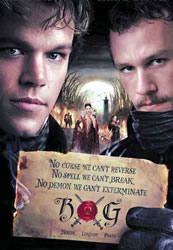 Did you have a favorite character?
The Brothers'two assistants were interesting characters with insufficient screen time.
How would you rate the acting?
Good acting can't overcome an uninspired script.
How were the special effects?
We've seen walking trees and wolfman transformations before,but the most effective and unsettling effects involved the abduction of little girls in odd and creepy ways.
Did the movie have a meaning?
I'm not sure - maybe it was that you could be a character in your own fairy tale.
What was the best/worst aspect about the movie?
As a fan of Nightmare Before Christmas and Vincent,my favorite part was the preview forTim Burton's Corpse Bride.
How do you think the Hollywood version of the film compares to the original book version of Brothers Grimm fairytales?
I would be more interested in seeing a documentary about the real brothers in historical context with the telling, retelling, and softening and sweetening of the tales by themselves, Disney, and many others.Once upon a time there were two German brothers ... Jacob's young life was changed when a professor shared his private library of medieval epics and heroes'tales. Jacob developed a passion for documenting and preserving these stories told mostly by peasant women. His younger brother Wilhelm came to embrace this cause, and the scholars,who worked as librarians for a time, produced collections which have been translated into more than 160 languages and which have enchanted millions of people worldwide.
Is it a movie that you would see again?
No.
To whom would you recommend the film?
This may be of interest only to die-hard Terry Gilliam fans,and I think they would be disappointed.Others can wait for the movie to come to Wallace or TV. I don't recommend this movie for children since there are many scenes of children in frightening and dangerous situations, including being kidnapped.
On a four star rating, with four being the highest what would you rate the movie?
1 1/2
What's your favorite movie snack?
Hot, buttered popcorn, of course!
What's your favorite movie?
Aliens has it all: heart-pounding action which is essential to the story line, moments of camaraderie which have entered the popular consciousness, credible and absolute aliens and an excellent story arc and satisfying conclusion. It also has special effects envelope pusher and director James Cameron, who worked on an earlier guilty-pleasures favorite, Battle Beyond the Stars and award-worthy performances by an ensemble cast, whose individual careers we've followed: see Near Dark, for a reunion of Alien's favorites Lance Henriksen, Bill Paxton and Jenette Goldstein.
How often do you go to the movies?
We go to the movies a couple of times a month. We also borrow DVDs from the library, check out the TV movie listings, and hang out near Costco's DVD racks.
Who's your favorite movie buddy?
My husband Mark, who is from Tinseltown, is more likely than I am to watch a chick flick (i.e., unlikely vs. very unlikely). For our first date,a misguided acquaintance recommended The Late,Great Planet Earth. Fortunately, neither one of us left the theater saying that the show was a life-altering experience, and we've been movie buddies ever since. One of our favorite pastimes is recasting movies we've just seen or casting favorite books.
What genre of movies do you like?
I like big-screen action movies with a director who can tell a story through actors with humor and humanity. For some reason, these are few and far between.
Who's your favorite actor/actress?
Wow! There are too many to mention. I do like Kathy Bates, Kevin Spacey and Vincent D' Onofrio for their range and consistently wonderful performances.
What's new?
The public library system has just introduced an eBook and digital audio book program. See www.librarieshawaii.org/services/ebooks.htm for a link and user guides. Search on "Grimm" for the folk tales in eBook and audio formats. Of course,there are many more copies and editions at your local library and a whole lot more, including videos and DVDs. Check out our holdings at www.librarieshawaii.org/catalog/index.html
Come visit!
Most Recent Comment(s):