Wednesday - January 23, 2008
By Kerry Miller

Movies Showtimes
Share

Max Sword
The Bucket List
Max Sword
VP of Industry Affairs,
Outrigger Enterprises Group
As Told To Kerry Miller
Where and with whom did you see the movie?
I went to the the Kahala Mall Theater with my girlfriend, Mona Wood.
Overall, what did you think?
It was not that bad of a movie. I like both actors; they did a decent job on it.
I hear you have your own "bucket list." Tell me about that. Is it similar to the one in the movie?
Yeah, I kind of have my own bucket list. It's short at this point; I'm not trying to die tomorrow. (It includes) going to England to watch a Manchester United game.The other one is to go rafting down the Grand Canyon.Another one is hiking up a mountain into a forest for about a week and taking an RV across the U.S. for a year.
(In the movie) they went skydiving, went up to the top of the pyramids in Egypt.They went to the Tajamahal and were riding bikes on the Great Wall of China. That was their bucket list they put together.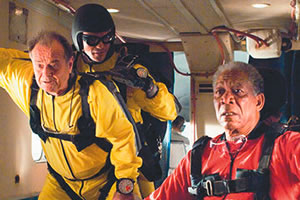 Is there an overall message in the movie, maybe something about living life to the fullest or a positive way to look at death and dying?
Actually, you know I thought it was going to be a movie full of the bucket list, but as it turned out it ended up being a touching story at the end. (The bucket list) that was part of what got them both together. They both had cancer, both were given between six months and a year to live. I don't want to give away the ending, but it ended up being a thing where one person affected the way the other acted. Jack Nicholson was the rich guy and Morgan Freeman was the poor guy. Even though Jack Nicholson did all these things, Morgan Freeman had humanity in him and it taught Jack Nicholson a lesson. He kind of changed him.
According to some reviews of the movie, the characters don't seem like normal "cancer patients." What are your thoughts on this? Is their portrayal of someone with cancer a realistic one?
Well, you know, in a movie you can pick it apart, but you can look beyond that. It's a fairly decent movie. They (the audience) get the gist of the story where they're doing what they want to do.
To whom would you recommend this movie?
I think people should just go see it.
On a scale of one to four stars, what would you rate this movie?
★★★. It's a good movie.
Favorite movie snack?
I always have popcorn when I go. Popcorn and Diet Coke.
What's new?
At the Outrigger Hotel we just got through with the Beach Walk and that's very successful. We're doing a lot of projects, a couple in Bali and also looking at Australia. As a company, we're OK.The legislative session is open and that's what I do - the political sutff, government affairs.
Most Recent Comment(s):