Wednesday - May 28, 2008

Movies Showtimes
Share

Melinda Maltby Alvarado
Local actress and director
As Told To Kerry Miller
Where and with whom did you see the movie?
I saw it Ward Theaters with my husband, Andy Alvarado.
Overall, what did you think?
I thought it was an excellent movie. Unfortunately I haven't read the book yet. I might have different opinion after reading the book.
Are you familiar with the Narnia books?
There are seven books (in the series). I just finished reading The Magician's Nephew.
I saw the movie The Lion,The Witch and The Wardrobe, but haven't read that book yet. CS Lewis' stepson co-produced the movie and had a small part in it. He is the overseer of anything that CS Lewis did that goes to film or anything. I got a couple of e-mails from him. I wrote to him while I was directing Shadowlands (a recent Actor's Group play about CS Lewis) and he said to the cast to go see the movie.
What about the acting, did anyone stand out?
I thought the acting was excellent.Of course, the four main children from the first movie were in it.The little girl who plays Lucy (Georgie Henley) really stands out. Peter Dinklage (Trumpkin) has been in a lot of movies.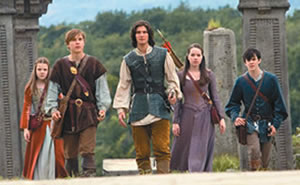 On a scale of one to four stars, what would you rate this movie?
I probably would rate it ★★★1/2.
To whom would you recommend this movie?
I would actually recommend it to everyone. I think everyone one should see it.
Favorite movie snack?
Plain popcorn with jalapenos in it. My husband saw someone do it, so he did it. I take sips of my husband's root beer.
What's your favorite type of movie to watch?
My No. 1 criteria is really well-made movies. I'm a really big movie fan. I love movies, I love stories. I like really well-made Christian films, (and) movies that I can see over and over again. I love musicals,especially if there's a lot of dancing. I can see those kind over and over again.
How often do you go to the movies?
Generally I go to the movies once a week and we usually go on Sunday. Sometimes,if we're lucky, we'll see two movies.
What's new?
Shadowlands was extended and it was a big success, and that just ended. Right now I'm actually doing waitstaff for the Rocky Horror Show at Manoa Valley Theatre, and a couple of musical numbers along with my sister, who had a major role in it, too.
Most Recent Comment(s):