Wednesday - September 14, 2005

Movies Showtimes
Share

The Constant Gardener
Movie Review with Ed Kubo
U.S. Attorney
As Told To Katie Young
Where and with whom did you see the movie?
I saw the movie with my wife,Tammy, at the Ward 16 Complex.
Overall what did you think?
I really liked the movie's complex plot. This movie has a murder-mystery plot, but it is also a love story about two opposite individuals.This movie really pulls you into the story much like a detective or a spy movie does. It leaves you guessing as to whether such unethical and unholy alliances of corruption between an industrialized government and large profit-making pharmaceutical corporations are possible while doing business in a Third World country. One may not like the ending,but one will certainly walk away with the conflicting beliefs that this was a tragic and heavy movie, but an enjoyable one.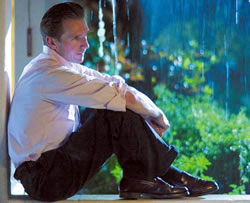 What was your favorite scene?
My favorite scene occurred when Justin confronts a girlfriend of his wife with the allegation that his wife was unfaithful to him with another man. Having armed himself with certain evidence and living with the pain of her possible infidelity and betrayal,he braces himself for the worst.However,he is told by this knowledgeable friend that his wife loved only him and that the other man is gay. The tension in this scene is suddenly relieved and this heavy weight on his shoulders is lifted.Faith in his wife is again restored, however, leaving behind a feeling of guilt that he could have ever questioned his wife's feelings for him.
Did you have a favorite character?
My favorite character was Justin Quayle,who was the main character in the movie. I really enjoyed his metamorphosis from a quiet, reserved British diplomat who was living comfortably within the bureaucratic system.
How would you rate the acting?
The acting was excellent, and both the actor who played Justin as well as the actress who played his wife,Tessa,complemented each other very well. Additionally, the performance of the supporting actors was also outstanding because each played a complex character who had their own story to tell. All of these actors played off of each other very well, and contributed significantly to the believability of this film.
Did the movie have a meaning?
This movie planted seeds of thought in its viewers. It opines that large international pharmaceutical companies will skew their test numbers in order to obtain government approval to sell their products.Of course,what better way to cover up such corruption than in Africa where the victims cannot complain, and where their governments either look the other way or can be bought off? Additionally,where the success of these international companies is worth millions and millions of dollars in profits,their own governments (British in this case) will knowingly participate in the conspiracy to cover up the fraudulent test results.This coverup is maintained even to the point of murdering those who are threats to the coverup.
What was the best/worst aspect about the movie?
The best aspect about the movie was in the evolving relationship between Justin and Tessa.The trials and tribulations of this couple are so like many contemporary couples.
It shows that marriage/relationships will be tested through a variety of ways and in order for it to remain strong, it has to be based on love, openness and trust.When one withholds information from another (even out of love and protection) it may breed distrust and anger until the truth is learned.
The worst aspect about this movie is the disturbing notion that the almighty dollar is valued more than life, and even more than thousands of lives.
It is disturbing that corporations may pretend to care for those who cannot help themselves (i.e.,bringing them medicines for AIDS) while at the same time victimizing those same helpless people in Africa by also giving them new developing medicines that will hurt or kill an unacceptable percentage of people.The intentional cover up of these test results is not to save lives,but to financially profit from the misery of others.
Is it a movie that you would see again?
I would definitely like to see this movie again. I believe that one cannot appreciate the totality of this picture until one has seen the movie more than once.
To whom would you recommend the film?
I would highly recommend this film to a wide variety of people.This film will appeal to those who like murder-mystery movies because this one will ask if the "good guy" really won in the end.
This film will also appeal to those who enjoy government "conspiracy" stories because it plants seeds of possibilities about large pharmaceutical companies being in bed with governments.Finally,this film will also be enjoyed by those who like complex love stories because you will witness the evolution of a relationship toward true love.
On a four star rating, with four being the highest what would you rate the movie?
I would give this movie a rating. I really believe this is going to be one of the better movies of the year.This was not only a well-done picture,it had a quality of talented actors and actresses which made an already good plot excellent.
What is your favorite movie snack?
Salted large popcorn with mochi crunch and Sprite.
What is your favorite movie?
Indiana Jones was my favorite movie because it was non-stop exciting action that was not only fun to watch, it was comical at times,too.This was a good example that good guys can win, even when everything bad is thrown at them in life.
How often do you go to the movies?
Every three months.
What genre of movies do you like?
I like comedy the best with action movies a strong second. I like comedy movies because it is a good mental break for me from my work.
Every day I see the harm caused to others; the anger and the pain.Comedy is my release from seeing all that dark side of life every day in my job.On the other hand, I love action movies where the good guy wins in the end.
Who is your favorite actor/actress?
Harrison Ford is my favorite actor because in many of his movies,he represents a strong ethical individual who fights the evil and injustices in this world and he always comes out on top.The characters he portrays make all of us feel that good will always triumph over evil in life.
What's new?
I am happy to report that I am starting to wear more aloha shirts. In the four years that I have been in office,I have been known to wear suits to all functions and events.However,I am now beginning to go to events with aloha shirts, much to the surprise of all my friends.
Next week: a new movie, a new celebrity
Most Recent Comment(s):