Wednesday - July 30, 2008

Movies Showtimes
Share

Jasmine Trias, entertainer
Where and with whom did you see the movie?
With a good friend of mine, Jason Baptiste, and I watched at Mililani opening night on Friday.
Overall, what did you think?
I thought it was a great movie. The movie really stuck to its roots. It started off from where the other movies left off.
What about Christian Bale? Do you like him as Bruce Wayne/Batman?
I think Christian Bale did a really good job. He really brings Batman back to the roots of the comic book. George Clooney and Val Kilmer were not so convincing for me. Even though Bale not one of those well-known actors, I was really convinced.
Everyone is talking about Heath Ledger's portrayal of the Joker. What did you think about his acting?
I thought that Heath Ledger takes the cake as being the best comic book villain ever. I was actually pretty terrified watching him perform. He just had no rules and no weakness at all. It was great to see how he portrayed that.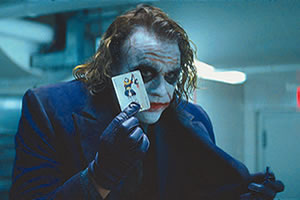 On a scale of one to four stars, what would you rate this movie?
★★★★.
To whom would you recommend this movie?
To everyone. I thought it was just a great movie overall. It had everything from suspense, action to a little bit of romance and comedy. It reaches a wide variety of audience.
It was a good balance of everything. It's a great piece of art with the characters, the storyline how it had so many twists. The star of the show was Heath Ledger.The only thing I wasn't too convinced about was Maggie Gyllenhaal. She didn't do a bad job, but I would prefer Katie Holmes.
Favorite movie snack?
I always get popcorn and the hurricane mix. Also, Melon Dream icee.
What's your favorite type of movie?
I like watching all kinds of movies. I don't really have certain types that I just go to watch. I wanted to watch Batman because I watched the first one and because Heath Ledger was in it. This was something you probably wouldn't expect from Heath Ledger. I love comedy, romantic comedy. The only movies that I won't watch are horror movies or anything scary.
How often do you go to the movies?
Maybe like once a month.
What's new?
I start back again tonight (performing with the SOS LV at the Outrigger Main Showroom in Waikiki). I was off for a week because I had to rest my voice. I extended it one more week, till Aug. 7. It's going really well. I love performing with SOS. They are just so much fun to work with. It's like family. They make it so easy. I don't even consider it a job. It's just having fun. I love it.
And I'm going to be working on my second album in August. I'm going to fly to L.A. to finish working on my album. I'll be there for about a month. I'll back, hopefully, in September. Every time I'm in town, I'll probably be performing with them (SOS LV).
Most Recent Comment(s):