Wednesday - October 11, 2006
By
.(JavaScript must be enabled to view this email address)

Movies Showtimes
Share
The Departed
Alika Winter
Owner of Soljah Clothing
As Told To Melissa Moniz
Where and with whom did you see the movie?
I saw the movie with my wife Tanya at the Ward Theatres.
Overall what did you think of the movie?
I really liked it.
The first word that came to mind is brilliant.
Did you have a favorite scene?
The opening scene got me.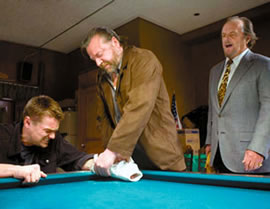 The Departed
After that the rest of the movie was gravy. You can pretty much tell if the movie is going to be good from the beginning.
Was the movie predictable?
No it wasn't.Right when you thought it was there's a couple of twists and turns that keeps you at the edge of your seat.
The movie had a stellar line-up off actors. Do you think they all measured up?
Yeah I did because I think Jack Nicholson was waiting for a role like this - a kind of Marlon Brando status in Godfather.It kind of brought him to that level and it was pretty cool. All the other actors were really good. It was like you weren't even watching a movie. It's kind of like set in a blue collar mafia type situation,where the guys are kidding with each other a lot. There's some really good humor between Mark Walberg and Matt Damon.There's some really funny dialogue that you would have to be a blue collar worker to get.The thing I liked about Leonardo DiCaprio is that I hated all of his acting up until now. I hated Titanic, I hated The Island, hated The Aviator, I hated everything he was in.And personally I thought that he wouldn't be able to fit in a role like this - so it was kind of nice to see him come through and be believable and be hard core.
If you had to pick something, what would you say is the worst part of the movie?
You know I thought there was a part that I didn't like. but then I thought back to like Casino, Scarface and Godfather and even though those movies are perfect there's always going to be like one little part that a little cheesy.
So I can't really say that there were any bad parts.
What other movies would you compare this to?
Basically if you like Godfather, Scarface, Casino and those types of movies with gangsters and violence. If you like violence there's no shortage of violence or gore.
I haven't seen Godfather, but in Casino and Scarface there's a love storyline that runs through the movie, did this movie have one as well?
Yeah,there's a little bit of a love plot. And I guess the one part that I could say is that they should have had a better love scene. I was hoping for a little more.
In a four star rating, with four being the highest, what would you rate it?
Guarantee four stars.
What's your favorite movie snack?
We always have nachos with double cheese, popcorn and a Coke Icee.
What's your favorite wrestling movie of all time?
It would have to be Scarface probably.
Everyone who loves Scarface has a favorite line in the movie.What's your favorite?
I don't even know if I should say it because everyone always says it,but how can you go wrong with, Say hello to my little friend.
Do you have a favorite actor or actress?
I think right now Jack Nicholson is my favorite.
What's new?
Right now we're doing a Friday night at Lulu's,which has been going really well. It's kind of a surf party crowd and it's called,$5 Pitchers and Rubber Slippers! I'm teamed up with Matty Liu and Steinlager.As for our clothing we're still doing a lot of business in Japan. Most of our clothing is a fight brand in Japan.
Next week: a new movie, a new celebrity
Most Recent Comment(s):