Wednesday - November 23, 2011

Movies Showtimes
Share

Steve Sue
Entrepreneur, Creator of Lemonade Alley
Where and with whom did you see the movie?
I saw it at the HIFF Festival this year, and I was with a bunch of movie buffs.
Overall, what did you think?
I thought it was a fabulous movie extremely thought-provoking with a very strong moral to the story. It was sort of a great dilemma between the kama'aina and being a local cultural person. It was a fictitious story line, but knowing John Morgan's (president of Kualoa Ranch) story and him as a steward of the land and how he really sees himself as a descendant of many years of stewardship, it was amazing to see that parallel in this movie. I like stories that have strong morals, and the whole dilemma setup was poignant. The story is really very universal. It could play any place in the world, yet it was a really smart move to feature it in Hawaii. It was another fantastic movie made locally, and this time tells a local story that works around the world rediscovering family values, love and responsibilities to the future.
On a scale of one to four stars, what would you rate this film?
★★★★
Without giving away the ending, what was one of your favorite scenes?
There was a scene where George Clooney finds out his wife cheated on him, and he just runs out in the street. There was this tension with him suffering through this, and you could see that his acting ranged. He's been kind of this cool guy, and in this movie he's really vulnerable something you don't expect out of a George Clooney movie.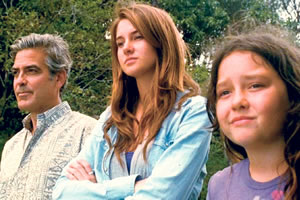 What did you think of the cinematography?
It's hard not to shoot something fantastic in Hawaii. Everything was visually enticing, and the whole thing comes together really well in this film.
Was the message/theme clear?
This is more like an international or European film, where you really have to think about it, and it really hits you 20 to 30 minutes after the film. To me, that's the value of a film, to give you a way to look at life that you can carry with you to the future.
Did you identify with any of the characters?
I very much identified with Clooney's character because I know John Morgan's story well, and I think it really typifies all the good things about what John's doing at Kualoa Ranch, and seeing himself as the steward of the land and preserving it for future generations. Clooney is realizing this through the development of the plot. You just see the wheels turning in his head, he's so human that it's hard not to identify with a character like that.
On a different note, what's new with you?
Lemonade Alley is a business literacy company for children from kindergarten to 12th grade. Recently, they went to Iolani and built lemonade stands and sold original-recipe lemonade. The proceeds went to local charities. The kids were judged on a one-page business plan, taste and booth design.
We're eco-friendly in Hawaii, and we're looking to build Lemonade Alley into something bigger. Lemonade Alley is part of BizGym (bizgym.com), and the hope is to help many local entrepreneurs get their products out to the world. This is one way to help our economy grow without pillaging the local resources we have.
For more information on Lemonade Alley, visit lemonadealley.com.

Most Recent Comment(s):