Wednesday - October 22, 2008

Movies Showtimes
Share

Wendell Say
Aiea High School Football Coach
as told to Kerry Miller
Where and with whom did you see the movie?
I went to Pearlridge and I went by myself. We had a bye two weeks ago and I wanted to take the kids to see the show, but it wasn't out yet.
Overall, what did you think?
I liked it. I think that being a biography on an outstanding player, I knew that he won the Heisman Trophy,but I didn't know his background. I really enjoyed the show. What I liked about the show is everything that we preach to our kids I saw in the movie.
We teach the four A's: accountability, appreciation, attitude and academics. Ernie Davis covered all those areas. He had a great attitude, he stood up and wasn't afraid to say he made a mistake.
This movie is based on a true story. Do you know if it accurately told that story or not?
I knew he won the Heisman, but I didn't realize he was the first black person to win it. I didn't realize he died so young. He didn't even have a professional career.It's a great movie for kids,inspirational,especially if you're into football because his resilience in life to overcome obstacles.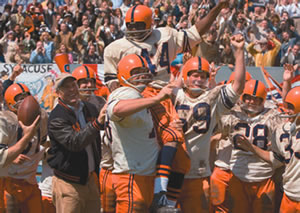 As a football coach, what inspired you most about this movie?
His resilience, his hard work, his values, his character, a lot of the things you want your players to learn. People didn't want him on the field because of his color, even from a very young age that's why he looked up to Jackie Robinson when he was a kid.
What about the acting, did anyone stand out?
His grandfather (played by) Charles Dutton did a good job.Dennis Quaid was good.
He can come across as a coach.
What about the movie's soundtrack, were there any songs that you recognized?
They sang some songs as a team, songs from that era. They were in jazz clubs.
On a scale of one to four stars, what would you rate this movie?
I love football movies and this is a biography, I give it ★★★★.
To whom would you recommend this movie?
If you enjoy football you'll enjoy the realistic scenes. They really try to make it look like the '60s.
Favorite movie snack?
Always popcorn and mochi crunch with a large Coke.
What's new?
We're 5 and 3 right now.We play tonight, Moanalua.The winner gets a spot in the playoffs. It's a do or die tonight. If we lose, our season's over. We started off real slow; we lost our first game,but won the last four games. We're doing a lot better now.
Most Recent Comment(s):